X.Org & Wayland Can Both Co-Exist & Continue Marching Forward
While many view Wayland as the future of the Linux desktop, the X.Org Server shows no signs of disappearing anytime soon as beyond needing it for legacy X11 applications, there's still much innovation happening within the conventional xorg-server as shown by the progress it's made in 2014.
This year the X.Org Server has seen significant improvements around the built-in GLAMOR acceleration support, DRI3 + PRESENT extensions, the xf86-video-modesetting generic DDX driver that's now part of the X.Org Server code-base too, improvements for RandR and other areas to handle new technologies like DP MST and 4K displays, etc. Wayland and the reference Weston compositor have also saw many improvements too although no tier-one Linux distribution is yet shipping the X11 alternative by default. Fedora in the next few releases will likely be the first major Linux distribution shipping Wayland by default with GNOME's Wayland support that made much progress this year. On the mobile front, Wayland is also maturing via Tizen, GENIVI's work, and Jolla's Sailfish OS.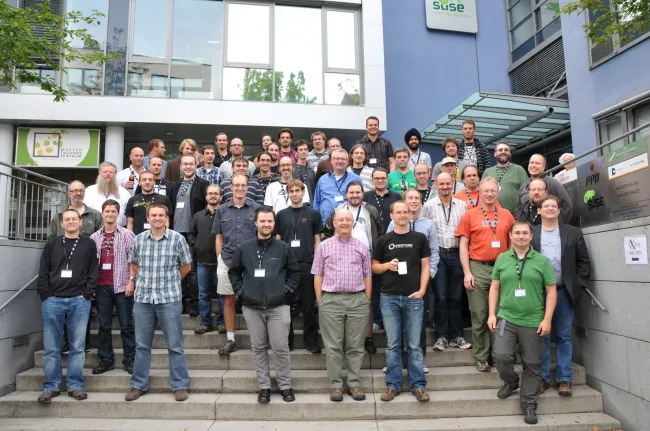 X.Org + Wayland developers at XDC-NUE.
Of the hundreds of X.Org/Wayland/Linux-graphics items published on Phoronix each year, when it came to the general X.Org-specific news items this year generating the most interest, the top ten included:
Recapping All The Interesting Talks Of XDC2014
The XDC2014 conference officially ended on Friday and was followed on Saturday by X.Org developers drinking wine and cycling around Bordeaux, France. For those not in attendance that haven't been keeping up with all of the Phoronix articles, here's a summary.
Another X.Org Security Bug Found, Dates Back To 1991
Another X.Org Security Advisory had to be publicly issued today to make known a buffer overflow in an X.Org library that's been present in every X11 release from X11R5 and the code was completed way back in 1991.
X.Org Server Systemd Integration Proposed
Patches have been published to the X.Org mailing list for providing systemd integration with the xorg-server.
4K Tiled Displays Become An Issue With X.Org
Aaron Plattner of NVIDIA has laid out the latest problem in the X.Org world: how to deal with 4K tiled displays that show themselves to the PC as two displays.
Sadly, Two X.Org GSoC Projects Already Failed
Two Google Summer of Code projects for the X.Org Foundation have already failed.
X.Org Server Support For 4K Ultra HD Monitor Support
An Intel developer has queued improvements for the X.Org Server in supporting 4K resolution (Ultra HD) HDMI displays.
X.Org Hit Hard By A Large Batch Of Security Vulnerabilities
Last year a batch of X.Org libraries were hit by security vulnerabilities and the researcher who discovered these issues called X.Org security a disaster and even "it's worse than it looks". Today, a big batch of these X.Org vulnerabilities were made public. Many of these issues date back 20 years or more.
GLAMOR Code Lands In X.Org Server 1.16
The GLAMOR 2D-over-OpenGL acceleration code is being integrated into the X.Org Server itself for the in-development X.Org Server 1.16 release.
DMX Gets Kicked In The Back In X.Org Server 1.16
Distributed Multihead X will no longer be built by default on future versions of the X.Org Server.
X.Org Server 1.16 Merge Window Officially Opens
Keith Packard of Intel has bumped the xorg-server version to 1.15.99.900 in signifying that the merge window for the X.Org Server 1.16 release cycle is officially open for development.
The top ten Wayland news items meanwhile were:
What It Takes To Port An X11 Application To Wayland
For those wondering what it entails in porting a program that previously depended upon X11 and its APIs to now working natively on Wayland without XWayland, here are some FOSDEM slides to check out.
What It Takes To Write A Wayland Compositor
For those curious about what it takes to write a standalone Wayland compositor and the challenges involved, two Enlightenment developers have shared their struggles and accomplishments in making Enlightenment a Wayland compositor.
Wayland 1.4 Released With Many New Features
Wayland 1.4 has been released today along with the updated Weston reference compositor. The release is arriving a few days late but overall there are a lot of exciting improvements and new features to find with this major update that competes with the X.Org Server and Mir.
Chromium Browser Is Running Great On Wayland
For several months now Intel developers have been working on a new Ozone-Wayland project that allows Google's Chrome/Chromium browsers and other applications to work on Wayland. Google's Ozone component provides the windowing system / input abstraction layer that is where this implementation for Wayland is being plugged into. After much investment, the Chromium browser is now starting to run great with Wayland.
NEMO-UX Shell Is A Futuristic, Multi-User Wayland Experience
Demonstrated at the ACM Interactive Tabletops and Surfaces (ACM ITS) event in Dresden, Germany the past few deays was the "NEMOSHELL" that looks like a futuristic user experience supported by Wayland.
XWayland Rebased, Fixed Up For X Server 1.15
Kristian Høgsberg has updated the XWayland code against the latest upstream X.Org Server.
Maynard: A Lightweight Wayland Desktop
Collabora has publicly announced this morning Maynard, a new Wayland-based shell that's lightweight and should work great for the Raspberry Pi.
Wayland's Orbital Shell Is Still Under Development
Several months ago I wrote about Orbital as a new shell for Wayland's Weston. While not much has been widely heard about the shell plug-in since that point, it's still under development and this week more patches landed.
GPU Offloading Support In Wayland Moves Along
Support for GPU offloading is making good progress in Wayland and building upon offloading improvements originally worked on for X.Org.
Wayland-based Compositor With An Oculus Rift
The "Motorcar Compositor" is an interesting Wayland-based compositor that supports using an Oculus Rift and Razer Hydra with support for 3D windows.
In 2015 will we finally see Wayland appearing on more Linux desktops? What do you see out of the X.Org Server in 2015? Let us know by commenting in the forums.