Google's Chromium Running On Wayland
The Chromium web-browser is back to running on Wayland.
Four weeks ago Google unexpectedly dropped the Wayland support for the Chrome/Chromium web-browser for unknown reasons (
the change
). However, it looks like Intel engineers have been playing with some Chromium code on Wayland at the same time.
Yan Wang out of Intel China has announced, "I did some porting of Chromium browser based on Aura. Now it could run on Weston and display web page by input URL." From
this mailing list message
and attached a screenshot as proof (see below).
Among the reported issues at the moment though for Chromium on Wayland were YouTube videos being unstable, strange menu item action, mouse/keyboard input being unstable, and browser mouse resizing/maximizing being unstable. As part of the porting of Chromium by Yan Wang, the Google web browser is using EGL and OpenGL ES 2.0.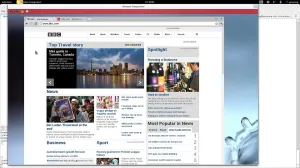 Other recent accomplishments for this eventual replacement to running an X.Org Server on the Linux desktop include
porting Wayland to Android
,
the first tiling window manager for Wayland
,
better video support
, and
more
.