Show Your Support: Did you know that you can get Phoronix Premium for under $4 per month? Try it today to view our site ad-free, multi-page articles on a single page, and more while the proceeds allow us to write more Linux hardware reviews. At the very least, please disable your ad-blocker.
Microsoft: The Unlikely Sponsor Of Linux
Besides
the Fedora hot dog marketing strategy
going on at
LinuxTag in Berlin
, another interesting aspect of this leading German Linux conference is the sponsors for this year's event. Microsoft and Nokia are among the leading sponsors.
For this annual conference at the Berlin Messe about Linux, hence the name LinuxTag, one of the leading sponsors of the event is... Microsoft. Microsoft became a partner with LinuxTag for their 2011 event and they are back this year as a "partner", per
their 2012 web-site
.
Microsoft's sponsorship of LinuxTag 2012 is very present both on their web-site and in physical form at the event. Microsoft was also widely advertised at LinuxNacht, their usual evening reception for the event, with table-top Microsoft tri-folds and their logo on the projected slides. On Thursday during LinuxTag, there was also a Microsoft session entitled "
Microsoft and Open Source: An Update on the Journey
."
The abstract for the Microsoft openness talk by James Utzschneider: "Microsoft has become increasingly open as a company and increasingly focused on investing in standards and interoperability as a way to provide customers with flexibility and choice, helping them optimize their mixed IT environments. In this, his second Linux Tag talk, James Utzschneider, Microsoft's General Manager for Competitive Strategy, will share his perspective on Microsoft's openness journey – including the company's commitment to cross-platform interoperability, its current relationships with open source technologies and communities, and how customers and partners are responding." I didn't have the time to stop by this talk, but from those that I know who attended they all found Microsoft's views to be a mix of bogus, comical, and entertaining remarks.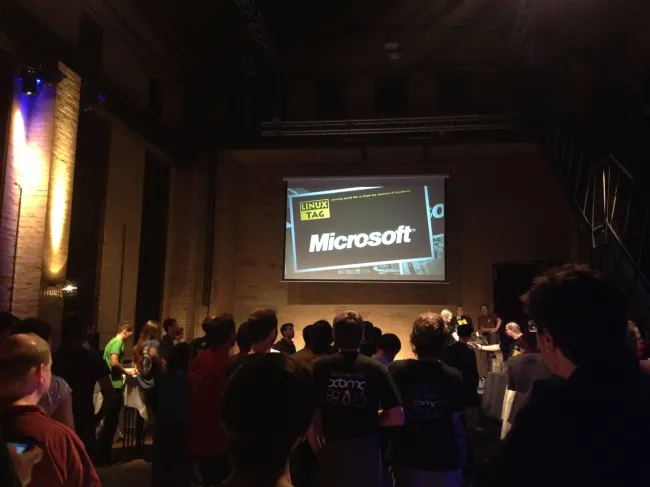 As far as Microsoft's expectation on ROI by sponsoring LinuxTag, that remains an open question. This isn't Microsoft's first time sponsoring or being involved with a Linux event. Microsoft has even presented at past Linux Foundation Collaboration Summits regarding
Microsoft's lessons learned from Linux
, etc. Microsoft is a contributor of the Linux kernel due to
their Hyper-V Linux drivers
and other work. With
their acquisition of Skype
, they're also continuing to support the Linux client.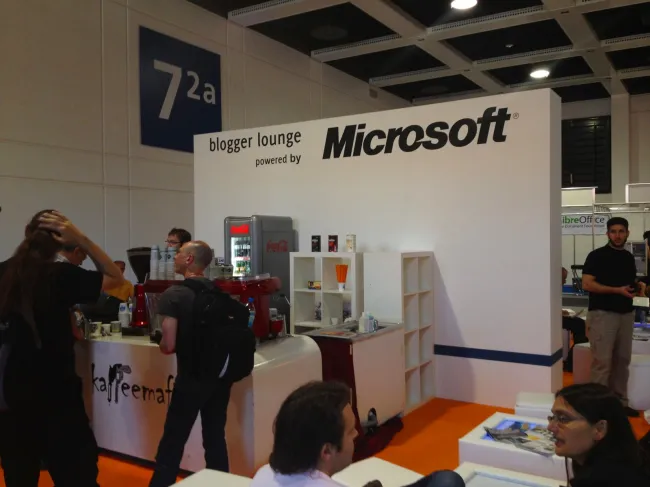 Microsoft also put up a "Blogger Lounge Powered By Microsoft" at LinuxTag 2012 where they have coffee, drinks, etc. This has also happened at previous LinuxTag events as well. Though I usually don't find myself at this Microsoft Lounge, since they don't have the
openSUSE beer
. As far as Microsoft's unusual Linux sponsoring, they also continue to spend thousands of dollars per year on advertisements via direct buys on Phoronix.com... Ads for Windows 7, Internet Explorer 6 / Windows XP EOL migration, Office 365, etc. I'm not sure what return on investment they expect off of Phoronix.com advertisements, especially when
I think Windows 8 is mostly a crap wreck
and relay words on how
Valve's Gabe Newell isn't liking the direction of Microsoft
, etc. Yet they continue to spend thousands annually on traffic for those who aren't
Phoronix Premium subscribers
.
Nokia is also another big name at LinuxTag 2012. This is a bit odd since now all of their mobile phones are moving towards using Microsoft Windows Phone 7, after they
got in bed with Microsoft
. Nokia and Microsoft remain passionate lovers to this day after they tossed out the Linux-based MeeGo partnership with Intel and the Linux Foundation.
Nokia's sponsorship of LinuxTag 2012 though does make some sense since they
continue to support the Qt tool-kit
. It's not clear what Nokia's ultimate plans are for Qt, I've heard various talk from different developers in private, but for now the Qt tool-kit developers at least continue to be employed by Nokia and they are preparing for their Qt 5.0 release later in the summer. Nokia though has already
sold off the Qt Commercial work
. Nokia wasn't a sponsorship partner for LinuxTag 2011 or 2010.
While not completely odd, Oracle's also another partner on LinuxTag 2012. Oracle at least has lots of software on Linux and other Unix-like systems, in part due to their acquisition of Sun Microsystems, but they're certainly not friendly towards all open-source members.
Following Oracle's acquisition of Sun, they
pissed off the OpenOffice.org development camp
,
killed off OpenSolaris
, and
VirtualBox Linux kernel drivers are tainted crap
, among other measures to alienate open-source / Linux fans. Oracle's sponsorship of LinuxTag at least isn't as strange as Microsoft's large presence.
Other LinuxTag 2012 partners/sponsors include the Berlin RootCamp, XL Energy Drink, Berlin University of Applied Sciences, Sophos, and the Open-Source Business Alliance. Two of the high-profile companies that are missing this year as LinuxTag sponsors compared to previous years of this major Berlin Linux conference is IBM and Google.