OpenSUSE Enters The Beer Business With "Old Toad"
Nearly all of the X.Org/Wayland coverage from last week's
FOSDEM 2012 event
is
available on Phoronix
. There's one other Phoronix point to make from FOSDEM 2012... For those that don't know, openSUSE is in the beer business. Yes, the Linux project does really sell openSUSE beer.
In Brussels this last weekend I was first made aware of the openSUSE beer initiative when
Egbert Eich
, the veteran X.Org developer and former RadeonHD developer at SUSE, brought in this openSUSE beer on Saturday morning as a surprise for me.
The openSUSE project at their booth was also then selling this openSUSE beer to FOSDEM-goers for 1EUR per 0.33L bottle of beer with proceeds benefiting FOSDEM. The openSUSE beer was called "Old Toad" and was actually quite a good brew. Benchmarking this openSUSE product went very well!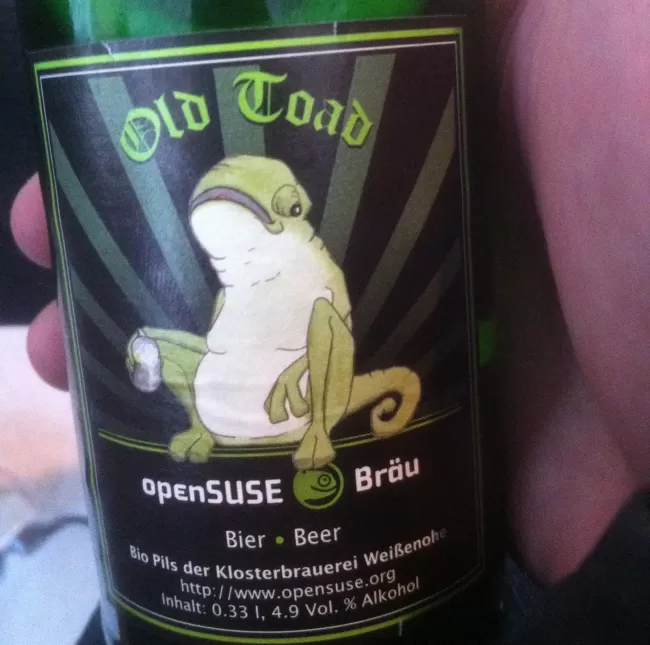 The openSUSE Old Toad pilsner beer comes from the Fränkische Schweiz region of Bavaria. So obviously this beer is not only a great marketing asset for the free software project, but it's also a very tasty beer (especially compared to all of the non-Reinheitsgebot beers of Belgium). The openSUSE Old Toad beer is made at the small brewery of Klosterbrauerei Weißenohe. The choice of brewery for Old Toad came down not only to being good beer, but SUSE/openSUSE and many of the original developers come out of Upper Franconia so this is their local beer.
While a Bavarian beer enthusiast, I wasn't the only one excited about this openSUSE beer, but in fact it was all sold out by early Sunday of FOSDEM. The openSUSE project even has
a proper Wiki page setup for Old Toad
. Evidently openSUSE Old Toad has been around since at least last year, but this is the first I've heard of it.
At this time the project isn't selling Old Toad on the Internet for mass distribution, but they will be bringing this openSUSE beer to other future Linux events. I'm told they're likely to have it at this year's
LinuxTag
. Hopefully we can also manage some for the
XDS2012 summit in Bavaria
this September, which is taking place at the SUSE offices.
Old Toad is certainly better than Ubuntu Cola (this drink is not affiliated with Canonical but is also an actual beverage). Prost!