We Rely On Your Support: This site is primarily supported by advertisements.

Ads are what have allowed this site to be maintained for the past 16 years.

We do our best to ensure only clean, relevant ads are shown, when any nasty ads are detected, we work to remove them ASAP. If you would like to view the site without ads while still supporting our work, please consider our ad-free Phoronix Premium. You can also consider a tip via PayPal.
Ubuntu's Deb-Based Software Center Fails As An App Store
Aside from the Ubuntu Software Center on the desktop frustrating some users over being slow and outdated compared to other "software stores", some app developers are also unhappy with Canonical's handling of the USC for paid apps.
Ubuntu app developer Michał Rosiak
wrote a Google+ post
last month over "deep frustration related to Canonical's approach to developers."
One of the principal concerns by this Polish developer is Canonical not making paid apps via the USC available post-14.04, with some of his games not being available to users under Ubuntu 14.10 and 15.04. "Not having my games available on the latest release of the system means I am unable to earn as much money as I could, since nobody would downgrade just to buy a game. What is more, people who have already purchased said games are finding them not available to download after the update."
That problem was compounded by Canonical employees failing to respond to Rosiak's requests about the issue. He's tried contacting people at Canonical to no avail. "I understand that Ubuntu Software Center is a enormous undertaking and things are bound to go awry from time to time, but lack of response from Canonical is simple not acceptable. Both Windows Store and Steam support teams are doing their best to answer developer's concerns, while Canonical doesn't seem to do anything to deal with it."

The original Ubuntu Software "Store" in 2009.
Commenting on that Google+ post last month were several Canonical employees acknowledging some shortcomings in the current processes, but that things should be better under Click/Snappy packages. With Click/Snappy packages, the apps are sandboxed so security is enforced by default and all package review processes can be automated. Other Ubuntu app developers also confirmed problems of their own too in submitting new apps to the USC, promises over the years of improved review/approval of packages for the store, etc.
Mark Shuttleworth commented on the post, "we learned that the Deb based package system wasn't workable for a store. The work on Ubuntu phone led us to snappy, where we put the developer of a typical app almost completely in control of publication."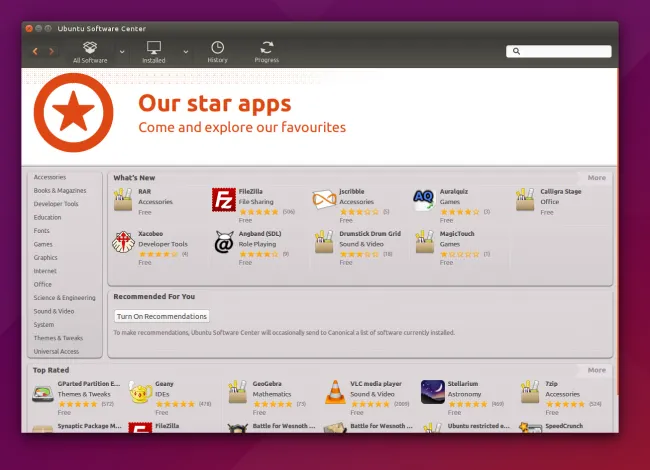 The current Ubuntu Software Center.
Most of the comments were about improving the technical process (i.e. things will be better once there's the converged app store and everything uses their new packaging format) while trying to do better at communicating with paid-for app developers, etc. One month after posting his problems, Michael Rosiak hasn't resolved his app issue, and is just increasingly frustrated.
Martin Albisetti of Canonical commented today on that post and pretty much reiterated Mark's point about their Deb-based package system not being workable for a store. Martin wrote, "we haven't fixed your problem because as it stands we can't afford to. The deb-based store has continued to be a huge problem over time and in fact it has been increasingly expensive to keep running. We've focused on making something new that fixes the core issues instead of continuing to make something work that clearly hasn't. Hence the store for the phone and Snappy...As it stands today, we won't enable uploads to newer Ubuntu releases. It requires significant manual work that sometimes drags on for weeks. Our last push was to make sure the LTS was supported, we hired an extra person to keep the review queue down to a handful of packages at any time (vs 100s) and we've addressed critical bugs as they came up. We all agree the current situation with the deb-based isn't one to be proud of, and I expect we'll announce a more definitive plan on its future soon."