We Rely On Your Support: Have you heard of Phoronix Premium? It's what complements advertisements on this site for our premium ad-free service. For as little as $3 USD per month, you can help support our site while the funds generated allow us to keep doing Linux hardware reviews, performance benchmarking, maintain our community forums, and much more. You can also consider a tip via PayPal.
Confidence In An Open NVIDIA Strategy?
Back during
CES 2008
we reported that
NVIDIA may be plotting an open-source strategy
(according to a NVIDIA partner) as the ATI/AMD camp has been on a spree with
releasing
NDA-free
specifications
to
the
OSS community
and
supporting
two
open
source
drivers
(
Radeon
and
RadeonHD
). Since then, Intel has also joined this
open bandwagon
by releasing the
G965/G35 programming documentation in full
(2D, 3D, video, everything) even though they have already have a
reliable open-source driver
.
While NVIDIA has yet to publicize their intentions nor have we been able to get anyone at NVIDIA to confirm any of this information, something does definitely appear to be going on within their Santa Clara offices in regards to an improved Linux state. A seasoned industry insider had reaffirmed the information this week.
How confident are we, you ask? Yours truly has just ordered a notebook off this open-source high, and it contains a NVIDIA GPU. Since June 1, 2006 when the
ATI Redblog
started I had been running an ATI graphics processor in my main workstation and notebook. Today's purchase is a sign of solidarity, but when NVIDIA fosters the open-source community in a way that AMD and Intel have, you may find this notebook on my lap... If AMD doesn't beat them to a functional open-source 3D stack (on
Mesa
or
Gallium3D
).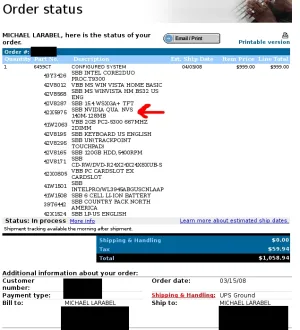 Upon this notebook's arrival you'll be able to find Ubuntu Linux benchmarks of the NVIDIA Quadro NVS 140M and Intel Core 2 Duo T9300 (2.5GHz, 45nm, 6MB L2 cache,
Penryn
-core) processor at Phoronix. This notebook also has a 120GB hard drive, 2GB of DDR2-667 memory, and a WSXGA+ (1680 x 1050) wide-screen display.
For more on the current state of open-source and binary Linux graphics drivers, check out
these articles
. If you're inclined to do more, you can check out
OpenTheBlob.com
, which has been talked about before for the
open letter to NVIDIA
and most recently has been
emailing NVIDIA AIB/OEM partners
.