Red Hat Enterprise Linux 7.0 Is Looking Fantastic
Since yesterday's
public availability
of the
Red Hat Enterprise Linux 7.0 release candidate
I have been busy at Phoronix testing out this upcoming release of RHEL codenamed Maipo.
Most of my
Red Hat Enterprise Linux 7
thoughts were shared within
my RHEL7 beta testing
article. Since the beta, there hasn't been any incredible last minute features, but there's been a lot of polishing happening. A lot.
The Red Hat Enterprise Linux 7.0 Release Candidate feels very polished and ready to go with providing a very nice experience from installation to workstation usage and server benchmarking. Overall, I'm very satisfied with how it's turned out thus far and from all early indications of the RC1 release is that it's nearly ready to ship.
The Red Hat Enterprise Linux 7.0 release candidate is shipping with the Linux 3.10 kernel, X.Org Server 1.15.0, Mesa 9.2.5, other updated X.Org components, and GCC 4.8.2. GNOME 3.8 is the default desktop environment of RHEL7 but there's a bottom panel by default and other changes to make it feel more like the GNOME2 experience found with RHEL 6.x.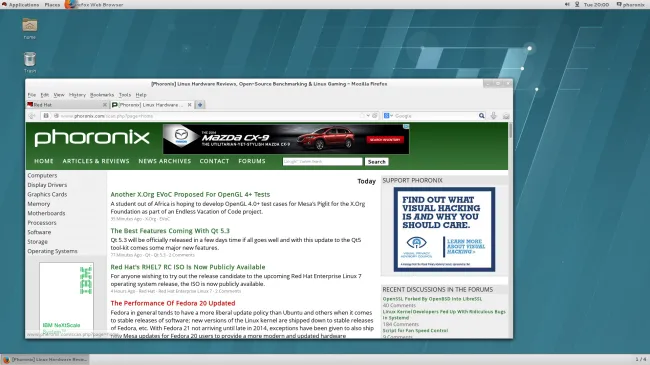 I'm now in the process of benchmarking Red Hat Enterprise Linux 7.0 RC using the enterprise-ready, fully-automated
Phoronix Test Suite
benchmarking software in conjunction with
OpenBenchmarking.org
. Stay tuned for fresh RHEL7 RC benchmarks compared to EL6 derivatives like CentOS and Oracle Linux in the next day or two. Have other enterprise Linux testing and benchmarking requests? Let us know at Phoronix!