We Rely On Your Support: Did you know that the hundreds of articles written on Phoronix each month are mostly authored by one individual working insane hours? Phoronix.com doesn't have a whole news room with unlimited resources and relies upon people reading our content without blocking ads and alternatively by people subscribing to Phoronix Premium for our ad-free service with other extra features. You can also consider a tip via PayPal.
Warhammer 40,000: Dawn of War II Rolls Out To Linux Gamers, Will Run Fine On Mesa
Seven years after Warhammer 40,000: Dawn of War II launched on Windows, the game is rolling out today to Linux along with Chaos Rising and Retribution.
Feral Interactive ported Warhammer 40,000: Dawn of War II and the CHaos Rising and Retribution game add-ons to Linux. Feral announced these games for Linux and macOS in
an announcement last week
.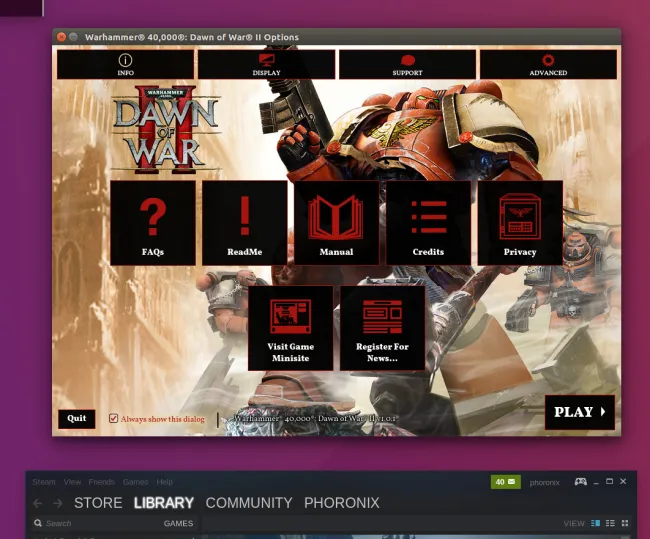 Warhammer 40,000: Dawn of War II will set you back $19.99 on Steam or $55 for the Master Collection or the Grand Master Collection with various DLCs for $80. See
the Steam Store
for more details.
With the game having launched originally in 2009 and being powered by Essence Engine 2.0, it's not very demanding on modern Linux systems. The minimum requirements are NVIDIA 6xx or AMD 6xxx series GPUs with at least 1GB of vRAM or even Intel Iris Pro graphics should work too. Feral recommends though a 2GB minimum GeForce 900 series GPU with the 367 binary drivers or newer. Feral has confirmed the game to work on Intel and AMD GPUs with Mesa 11.2.
For my basic testing with a review copy of the game, sure enough it did work with the AMDGPU + RadeonSI stack! No problems at all with an R7 370 and R9 Fury were used for testing. The game does have a built-in "performance test" (benchmark), but unfortunately it doesn't appear to be exposed via the command-line. Thus, unfortunately, due to the lack of being able to carry out the game's benchmark in a fully-automated manner, it's not going to be the subject of any benchmarks on Phoronix (along with the fact it's rather old and not too taxing on modern hardware).
More details on this latest Feral work via
today's news announcement
.