Fedora Linux Had A Very Productive, Tremendous Year
With the releases this year of
Fedora 22
and
Fedora 23
, Fedora stakeholders should be proud of themselves with the quality of Fedora releases/support continuing to go up while driving a lot of new innovation and success into Linux. About the only gripe I have with the latest Fedora releases is that they no longer ship with any fun codenames to talk about...
Fedora 22 and Fedora 23 were both great releases this year and -- at least from my perspective -- some of the best going back to the Fedora Core days. This year
I switched back over to Fedora
on my main production system from Ubuntu and continue to be very happy with the decision. These latest releases are a lot more stable, trouble-free, and robust than some of the past Fedora releases.
Even the GNOME Wayland experience has been nice
.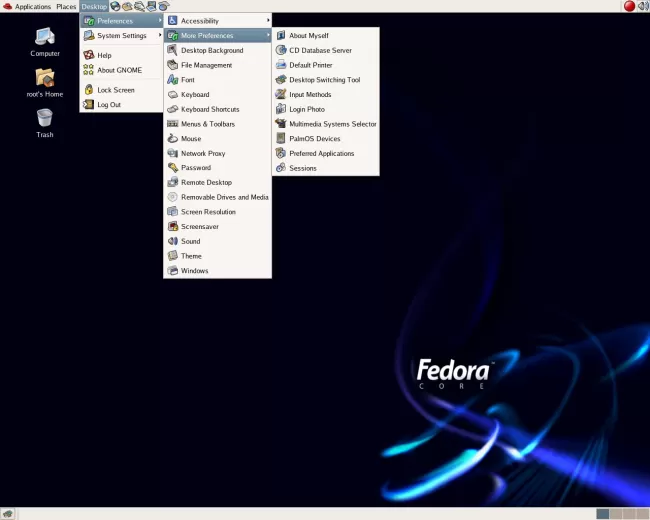 It's already been ten years since the release of "Stentz" Fedora Core 4.
For those wishing to relive Fedora's development this year, here's a look at our top ten (out of more than one hundred original Fedora articles this year) most viewed Fedora articles on Phoronix for 2015:
The Tremendous Features Of Fedora 22
With Fedora 22 having entered its alpha freeze this week along with the software string freeze and change checkpoint deadline, here's a recap of some of the towering features of this six-month update to Fedora 21 and the second release under the Fedora.Next strategy.
I Switched (Back) Over To Fedora As My Main OS & It's Going Great!
After having used Ubuntu Linux on my main production system for about the past six years or so, I'm back to using Fedora as my main OS. So far the Fedora 21 experience has been going excellent.
Installing The AMD Catalyst Driver On Fedora 21
Installing the AMD Catalyst (fglrx) driver on the latest Fedora release can sometimes be a challenge due to Fedora catering towards the open-source graphics drivers.
Fedora KDE Takes A Blow; Fedora 23 KDE Spin Is "Easily The Worst" They've Spun
The Fedora KDE community has been dealt a blow today with one of the co-maintainers of the Fedora KDE packages resigning from those duties along with his roles relating to the Fedora KDE special interest group.
It's Been Five Months Since I Left Ubuntu For Fedora On My Main Workstation
It's been five months since I quit using Ubuntu Linux on my main production system and switched over to Fedora Workstation. Looking back, it was a fantastic decision.
Intel's Broadwell i7-5775C Runs Much Happier On Fedora 22 Than Ubuntu Linux
While there's been some stability issues / kernel panics with the high-end Core i7 5775C "Broadwell" processor on Linux, I've found out that Fedora 22 yields a much better experience than Ubuntu 15.04/15.10.
Pinos Is For Linux Video What PulseAudio Is For Audio
Just a few hours after writing about some new Linux video project dubbed "PulseVideo", Pinos was announced as a new initiative by Fedora Workstation for improving Linux video support.
A Look At BCache vs. LVM Cache For HDD+SSD Linux Systems
For those thinking about potentially running a Linux system with a combination of SSD and HDD so that the solid-state drive would be able to act as a performance cache for commonly used data, BCache and LVM-cache/dmcache are two of the commonly used solutions.
Fedora Server 22 Is Using The XFS File-System By Default
The server edition of Fedora 22 is using the XFS file-system by default rather than EXT4.
Some Of The Changes To Be Found In Next Week's Fedora 23 Alpha Release
Fedora 23 Alpha is coming next week. Here's a look at some of the new features to find with Fedora 23.