There Are Now 1,400 Vulkan Projects On GitHub
The milestone was breached today of having 1,400 projects on GitHub referencing the Vulkan graphics API.
It was just this April when there were
1,000 Vulkan projects on GitHub
, in July when
reaching 1,200 projects
, and now on 15 September is crossing
the 1,400th project
.
Great to see all of these open-source projects around Vulkan from various language bindings ranging from Rust to D to Perl, many game engines and other renderers with Vulkan, tutorials, debuggers, and other code samples.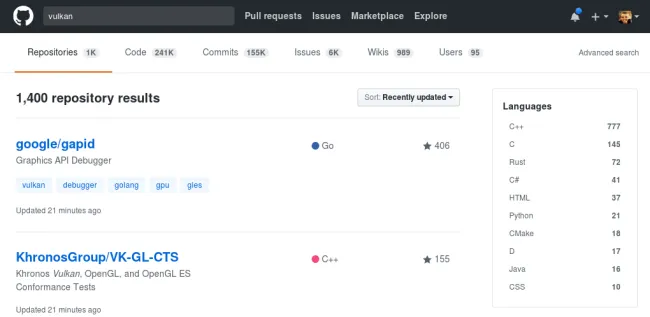 Of those 1,400 projects, over 700 of them are in C++, over 100 of them in C, and in third are around 72 of them in Rust followed by C#.
What are your favorite open-source Vulkan projects over the past year and a half? Share with us in the forums, especially if there are any nifty Vulkan open-source projects we have yet to cover on Phoronix.