Show Your Support: This site is primarily supported by advertisements. Ads are what have allowed this site to be maintained on a daily basis for the past 18+ years. We do our best to ensure only clean, relevant ads are shown, when any nasty ads are detected, we work to remove them ASAP. If you would like to view the site without ads while still supporting our work, please consider our ad-free Phoronix Premium.
The Most Popular Linux News & Milestones From This Winter
With winter now officially over in the Northern Hemisphere, here's a look back at the most popular Linux news and milestones for this past winter.
In this recap I looked at the most popular Phoronix content for the dates spanning the Northern Hemisphere's astronomical winter from 21 December to 19 March. In this time there were
773 original news stories
published on Phoronix and
57 multi-page / featured-length articles
written largely by your's truly.
There's even more exciting content coming up this spring so be sure to follow it via
Facebook
,
Twitter
, and
Google+
.
Subscribe to Phoronix Premium
for ad-free browsing and viewing of multi-page articles all on a single page. Premium subscribers and those viewing Phoronix without ad-blockers (and
tips
) does a lot to support the site and allow for all of the hardware testing and countless articles each day to continue. Thank you for your support.
The most popular Linux news included:
Eric S. Raymond Calls LLVM The "Superior Compiler" To GCC
Joining in on the heated discussion that originated over Richard Stallman voicing concerns over adding LLVM's LLDB debugger support to Emacs, Eric S Raymond has come out to once again voice his support in favor of LLVM/Clang and express his feelings that GCC's leading days are over.
Linux 4.0-RC1 Tagged, Linux 4.0 Will Bring Many Notable Improvements
Linus Torvalds has decided to go ahead and rename the Linux 3.20 kernel to Linux 4.0 per his polling last week. Torvalds released Linux 4.0-rc1 on Sunday night and this release comes with many significant updates.
GL_AMD_pinned_memory Lands In Mesa
Support for the GL_AMD_pinned_memory OpenGL extension has landed within Mesa and is implemented for the R600g and RadeonSI Gallium3D drivers. This patch series also lands the Userptr support for the open-source AMD graphics drivers on the user-space side.
Raspberry Pi 2 Linux Benchmarks: Arch, Raspbian & Overclocking
Thanks to the open-source Phoronix Test Suite and OpenBenchmarking.org, there's already many benchmarks of the new quad-core Raspberry Pi 2.
VLC 2.2 Has Many Features Coming, But VLC 3.0 Will Be Even More Exciting
For those not closely following the development of the VLC open-source, cross-platform media player, the VLC 2.2.0 release is coming soon while further out is VLC 3.0 and it will be even more magical.
RMS Feels There's "A Systematic Effort To Attack GNU Packages"
Richard Stallman has come out against support for basic LLVM debugger (LLDB) support within Emacs' Gud.el as he equates it to an attack on GNU packages.
GNOME's Mutter Updated For Latest Wayland Support
For those wishing to experiment with the latest Wayland technologies, short of running the Weston compositor, the bleeding-edge development GNOME stack continues to serve as an excellent alternative with quickly adopting support for new functionality.
Xfce 4.12 Planned For Release In A Few Weeks
It looks like the release of Xfce 4.12 is finally about to materialize!
I Switched (Back) Over To Fedora As My Main OS & It's Going Great!
After having used Ubuntu Linux on my main production system for about the past six years or so, I'm back to using Fedora as my main OS. So far the Fedora 21 experience has been going excellent.
Linus Torvalds Still Deciding Linux 3.20 vs. Linux 4.0
Linus Torvalds is still deciding when to bump the kernel version to Linux 4.0.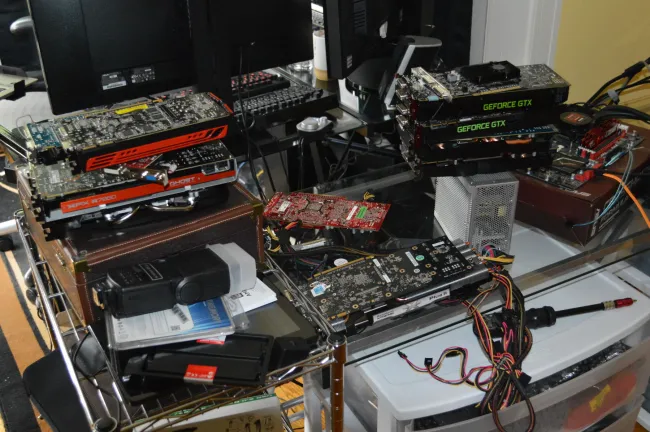 The most popular large articles for the 2014 Winter were meanwhile:
Intel Broadwell HD Graphics 5500: Windows 8.1 vs. Linux
Linux graphics tests of Intel's Broadwell hardware are finally here! Going back to November of 2013 is when Intel began putting out open-source Broadwell HD Graphics code. Since the initial Broadwell code drop, I've written dozens of articles to date covering the Linux kernel work, Mesa DRI OpenGL driver progress, Beignet OpenCL compute support, and other key Linux components work on Intel Broadwell support. A few days ago I received the Lenovo ThinkPad X1 Carbon with Core i7 Broadwell CPU to finally see how the Linux support has panned out for this next-generation line-up succeeding Haswell.
AMD's Open-Source Radeon Linux Driver: 2014 Was Incredible
With this week having delivered our 2014 Catalyst Linux Graphics Benchmarks Year-In-Review that looked at the evolution of the AMD Catalyst Linux driver performance over this year, now it's time to see how the open-source Radeon driver performance has evolved.
Unreal Engine 4 Linux Tests With AMD & NVIDIA Graphics Drivers
This week there was a 22-way graphics card test of Metro Redux on Linux using GeForce and Radeon hardware with the latest AMD and NVIDIA proprietary drivers. Today the newest Linux gaming test candidate to look at is the AMD/NVIDIA Linux performance with the latest Unreal Engine 4 demos. In this article is a look at the UE4 Linux performance on AMD and NVIDIA graphics hardware running with Ubuntu.
AMD Catalyst Linux OpenGL Driver Now Faster Than Windows Driver In Some Tests
Earlier this week I showed benchmarks of AMD's incredible year for their open-source Linux driver and how the open-source Radeon Gallium3D driver moved closer to performance parity with Catalyst. One of the lingering questions though is how does the Catalyst 14.12 Omega Linux driver from December compare to the latest Catalyst Windows driver? Here's some benchmarks looking at the latest open and closed-source drivers on Linux compared to the latest Catalyst Windows release.
Lenovo ThinkPad X1 Carbon Works Great As A Linux Ultrabook
Nearly one month ago I bought the third-generation Lenovo ThinkPad X1 Carbon as one of the first laptops/ultrabooks shipping with a high-end Broadwell processor. I've been running Linux on the system since receiving it, including the past ~3 weeks as my main production system, and I remain very happy with this purchase.
17-Way Linux Graphics Card Comparison With Civilization Beyond Earth
On Thursday, Sid Meier's Civilization Beyond Earth was finally released for Linux. With being able to properly automate the benchmarking of CivBE on Linux, here's our first performance results out for this high-profile, turn-based strategy game for Steam on Linux. Seventeen AMD Radeon and NVIDIA GeForce graphics cards were benchmarked for this article and the results are quite interesting.
AMD FX-8320E Performance On Linux
Back in September AMD announced new FX CPUs that included the FX-8370, FX-8370E, and FX-8320E. Back then we reviewed the FX-8370/FX-8370E CPUs under Linux but at the time didn't have our hands on the more affordable FX-8320E processor. In December AMD sent over the FX-8320E and so for the past few weeks I've been happily using this new Vishera CPU.
22-Way AMD+NVIDIA Graphics Card Tests With Metro Redux On Steam For Linux
A few days back I wrote about being able to finally get the Metro Redux game benchmarks running in an automated manner under Linux to the point that we're now able to test it with the Phoronix Test Suite. With Metro 2033 Redux and Metro Last Light Redux now running well for our testing purposes, I've carried out performance tests of these two games with twenty-two AMD Radeon and NVIDIA GeForce graphics cards on Linux. Besides looking at the normal FPS result there's also frame latency metrics, power consumption data for each of these graphics cards, performance-per-Watt metrics, and GPU thermal results. If you're wondering what graphics card works best for your needs for OpenGL 4.x Linux gaming, here's an interesting look with the Metro Redux titles that premiered on Steam for Linux back in December.
9-Way Linux Laptop Performance Comparison From Intel Nehalem To Broadwell
As the latest Linux benchmark numbers to deliver for Intel Broadwell and the new ThinkPad X1 Carbon ultrabook, here's a nine-way Linux laptop/ultrabook comparison. All nine devices in this article were tested against the latest snapshot of Ubuntu 15.04 while running a big set of benchmarks and also monitoring the CPU temperatures and battery power consumption while testing for a nice look at Clarksfield/Nehalem, Sandy Bridge, Ivy Bridge, Haswell, and Broadwell mobile hardware on Linux.
Ubuntu 15.04 Is The Easy Path To Better Performance On Intel Broadwell
Unless you manually upgrade your kernel and other system packages from your Ubuntu 14.10 installation, Ubuntu 15.04 Vivid Vervet is an important release for users of new Intel Broadwell systems for ensuring your hardware reaches its maximum performance potential.
What were your favorite milestones for Linux this winter? What do you wish would have happened? Let us know by commenting on this article.