Mesa & AMDGPU-PRO Appear To Run Fine With Rocket League On Linux
With many Linux gamers having looked forward to
the Linux release of Rocket League
, I tested out the Linux port of the game when using Mesa RadeonSI Gallium3D as well as the AMDGPU-PRO blob.
Considering Rocket League on Linux lists system requirements even lower than the Windows specifications and do mention AMD, I was expecting the process to go well. Additionally, Rocket League is powered by Unreal Engine 3 -- yes, UE3, not UE4. Considering that, it went well.
For the Mesa testing I stuck to the RadeonSI Gallium3D driver with a Radeon R7 370 and R9 Fury. Both cards performed very well for this game, even the R7 370. This game isn't very taxing on the graphics hardware.
Using Mesa 12.1-dev worked fine while I would imagine this Unreal Engine 3 game would still work fine on Mesa 12.0 or even 11.x.
Unfortunately with the game appearing to not have any integrated benchmark capability, my testing was quite limited.
When switching over to the AMDGPU-PRO driver, there were no rendering artifacts and all around appeared to function fine on the new AMD hybrid Linux driver. The frame-rates, as under Mesa, were very playable and didn't run into any slowdowns.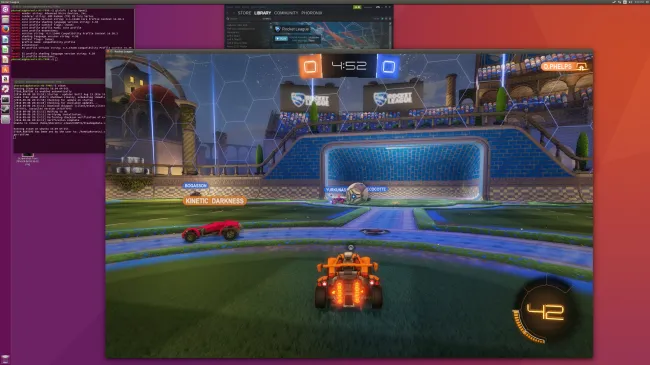 While I didn't have a chance to test the Intel Mesa driver or Nouveau Gallium3D, given this is a UE3 title and not very demanding, I would anticipate it working fine over there too. Of course, don't expect to run into any NVIDIA problems if using their binary driver on any recent GeForce GPU. If you try it out, share your experiences about Rocket League on Linux via commenting on this article in our forums. Too bad there doesn't appear to be any proper benchmark mode for Rocket League barring me from running more exhaustive tests.