Ubuntu Must Love The Fedora 17 Beefy Miracle
For those that were concerned about
Fedora 17
being
codenamed the Beefy Miracle
, fear not as Ubuntu has your back... At least Canonical's community manager, Jono Bacon, is in support of this next-generation Fedora codename.
Jono is in support of Fedora 17's Beefy Miracle so much that he decided to dress up as the friendly competitor's mascot for the Halloween party during the Ubuntu Developer Summit in Orlando, Florida.
Jono dressed up as a hot dog, which matches that of the "Beefy Miracle" mascot as found on
BeefyMiracle.org
, which was the web-site to promote the Fedora Linux codename.
Fedora 17 is due out as Red Hat's first community release in 2012 and will feature
GNOME Shell on LLVMpipe
,
an updated graphics stack
,
potentially Btrfs by default
, and other changes. This Beefy Miracle release will be in friendly competition to Ubuntu's 12.04 release codenamed
Precise Pangolin
, which will come out in April. There's a lot coming up for Ubuntu 12.04 too, as talked about in
the numerous UDS Phoronix postings
(my summary article will be out this weekend).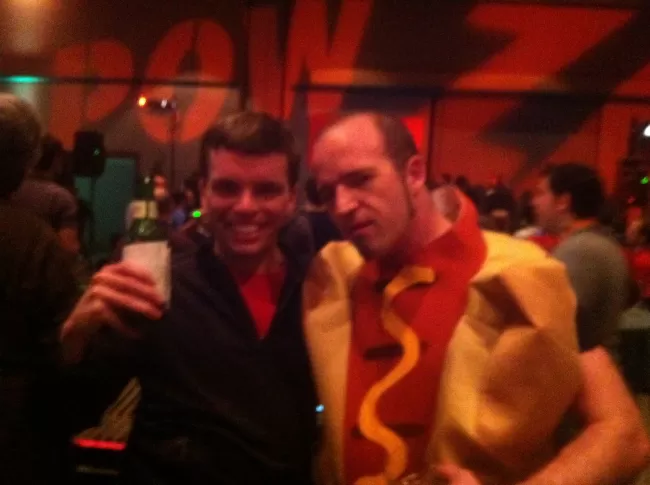 Sadly, the lederhosen are not visible to complete this photo.
Yes, I did talk this over with Jono, and he is well aware of his costume matching that of the Fedora 17 "Beefy Miracle" theme. (Surprisingly, few others at this Ubuntu Developer Summit party realized the Beefy Miracle reference to Jono Bacon dressing as an American hot dog.)
Perhaps this further brings to light
Jono Bacon is really Jef Spaleta
? ;)