We Rely On Your Support: Did you know that you can get Phoronix Premium for under $3 per month? Try it today to view our site

ad-free, multi-page articles on a single page, and more

while the proceeds allow us to write more Linux hardware reviews.
Raptor Rolls Out New OpenBMC Firmware With Featureful Web GUI For System Management
While web-based GUIs for system management on server platforms with BMCs is far from anything new, Raptor Computing Systems with their libre POWER9 systems does now have a full-functioning web-based solution for their OpenBMC-powered systems and still being fully open-source.
As part of Raptor Computing Systems' POWER9 desktops and servers being fully open-source down to the firmware/microcode and board designs, Raptor has used OpenBMC for the baseboard management controllers but has lacked a full-featured web-based system management solution on the likes of the Talos II and Blackbird systems up until now.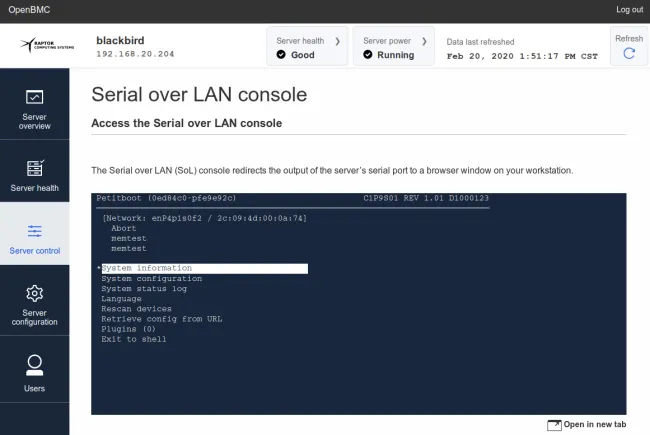 Raptor is now rolling out the "v2.00" system firmware for Talos II and Blackbird that features a full-functioning web-based GUI with iKVM, serial over LAN, sensor monitoring, and other features we are used to seeing out of the proprietary BMC web-based software solutions.
We're proud to announce the official release of the v2.00 system firmware for #TalosII and #Blackbird! The major new feature is a fully functional Web-based GUI for system management via the BMC -- check out these screenshots of SoL, iKVM, sensor monitoring, and remote media! pic.twitter.com/66nemCpTBT

— Raptor Computing Sys (@RaptorCompSys) February 20, 2020
The updated system firmware is available from
their Wiki
. While they work to upstream the relevant changes, the Raptor code for now is available via
their Git repositories
.