Phoronix Test Suite 6.0 M5 Released, Nearly Done With "Hammerfest" Development
The latest development release of
Phoronix Test Suite 6.0 (codenamed
Hammerfest
) is now available for open-source, cross-platform benchmarking.
Most visible to Phoronix Test Suite 6.0 Milestone 5 is a brand-new results viewer for when locally viewing your benchmark results outside of
Phoromatic
and
OpenBenchmarking.org
. The result viewer was rewritten with an updated theme that now jives with the new
Phoronix-Test-Suite.com
site design. Additionally, the new local results viewer is written in HTML+JS for loading the XML results rather than using XSL. The XSL-based results viewer has been dropped due to poor cross-browser support (namely Chrome) for dealing with local XML+XSL data, etc.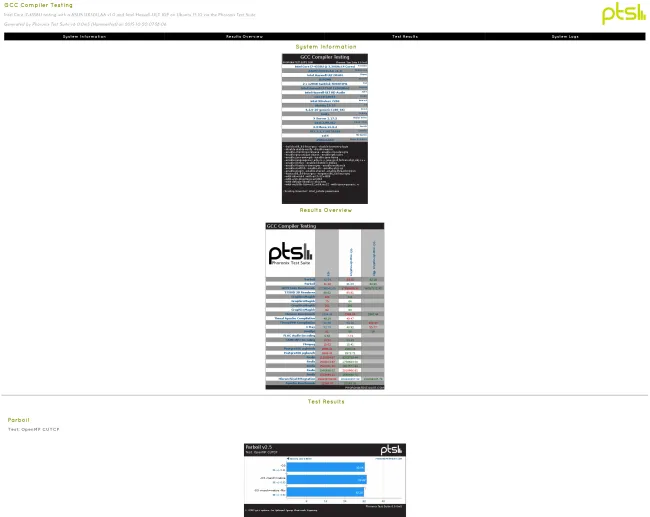 The in-tree HTML documentation also now has an updated theme too for matching the Phoronix-Test-Suite.com design. Phoronix Test Suite 6.0 Milestone 5 also has fixes for
phoronix-test-suite finish-run
,
phoronix-test-suite result-file-to-csv
, and other fixes and adjustments. The
ongoing new Phoromatic Server work
also has seen more tweaks and refinements in today's development release.
Originally Phoronix Test Suite 6.0 was going to be released alongside a brand new OpenBenchmarking.org release, but as the graphics designer isn't yet done with that work, I'm putting off that milestone until Phoronix Test Suite 6.2 in early 2016. Besides a new site layout, the new OpenBenchmarking.org will restore functionality and have a wealth of other new functionality. With that said, I'm now planning to release Phoronix Test Suite 6.0-Hammerfest in mid-November. Prior to that may be one more development milestone release as there's still some system monitoring changes likely to make this next release.
Download the Phoronix Test Suite from
Phoronix-Test-Suite.com
or
Phoronix-Test-Suite on GitHub
.
Contact us
for all your commercial support needs and custom test development.