Show Your Support: Have you heard of Phoronix Premium? It's what complements advertisements on this site for our premium ad-free service. For less than $4 USD per month, you can help support our site while the funds generated allow us to keep doing Linux hardware reviews, performance benchmarking, maintain our community forums, and much more.
X.Org Server Commit Activity Continues Declining
After looking earlier today at
development statistics for Wayland's Weston
, here's a fresh look at the work going into the X.Org Server.
The latest X.Org Server Git master code is up to 715,309 lines of code spanned across 13,941 commits from 450 different individuals, at least as far back their source control tracking goes.
The commit activity to X.Org Server Git remains on the decline. In 2013 there were 731 commits, in 2012 there were 1106 commits, 2011 had 1429 commits, 2009 had 1854 commits, and 2008 hit an all-time high of 2098 commits -- back then there was much refactoring going on with DRI2, etc. This year to date there's just been 339 commits -- while being a bit before half-way through the year, it looks rather unlikely (and based upon the continuing slower tend of previous years) that even 800 commits will come in 2014 to the xserver Git repository.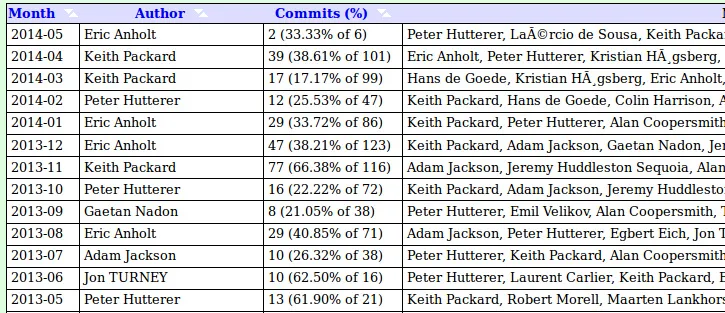 Dominating X.Org Server development this year have been Intel's Keith Packard and Eric Anholt. Keith continues serving as the X.Org Server release manager while he and Eric have been working lately on DRI3 and the
GLAMOR acceleration
support that was recently merged into the X.Org Server.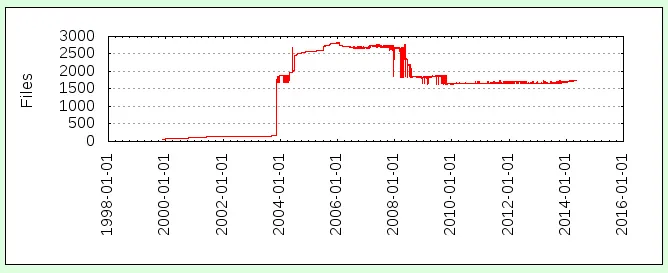 While GLAMOR has landed and other changes in recent months, the file and line count is still largely the same: just over 1,700 files and over 700k lines of code.
That's the short story of the X.Org Server code today that's arguably in "maintenance mode" but there's still the big work of recent time like DRI3 and GLAMOR improving the aging X stack. The
X.Org Server 1.16
release is the next major update and it's due out in July.