Show Your Support: This site is primarily supported by advertisements. Ads are what have allowed this site to be maintained on a daily basis for the past 18+ years. We do our best to ensure only clean, relevant ads are shown, when any nasty ads are detected, we work to remove them ASAP. If you would like to view the site without ads while still supporting our work, please consider our ad-free Phoronix Premium.
FreeBSD 13.2 Beta 1 Released With WireGuard, Bhyve Improvements, ASLR By Default
The first beta of the upcoming FreeBSD 13.2 point release is now available for testing this Valentine's Day with some great features in tow.
While FreeBSD 14.0 is expected this summer as the next major BSD operating system release, FreeBSD 13.2 does come with some great changes as a hearty stable point release update. There is ASLR by default for 64-bit executables, WireGuard is present, Bhyve virtualization improvements, and much more to enjoy with FreeBSD 13.2.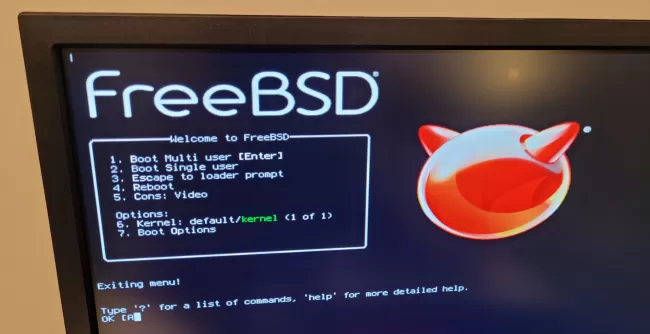 Among the changes in FreeBSD 13.2 Beta 1 include:
- Bhyve has gained VirtIO input device emulation support to inject keyboard/mouse input events into a guest.
- The Bhyve hypervisor now supports more than 16 vCPUs in a guest. By default Bhyve now allows each guest to create the same number of vCPUs as is the number of physical CPUs on the host.
- Address Space Layout Randomization (ASLR) is enabled for 64-bit executables by default.
- Intel Alder Lake support has been added to the hwpmc driver.
- Upgrading against OpenZFS 2.1.9 upstream.
- The WireGuard driver has been added into the source tree.
- Kdump has added support for decoding Linux system calls.
- The pciconf utility can now decode ACS extended capabilities of PCI devices.
- Upgrades to contained software like LLVM 14.0.5, OpenSSL 1.1.1t, OpenSSH 9.1p1, SQLite 3.40.1, XZ 5.4.1, and other software packages.
- New RC scripts of "zpoolreguid" to assign a new GUID to one or more ZFS Zpools and "machine_id" as a script to generate a /etc/machine-id when it does not exist.
More details on FreeBSD 13.2 BETA 1 via the
release notes
and today's
BETA1 announcement
with download links.