The Current State Of Coreboot & Open-Source Firmware For AMD Hardware In 2023
Michał Żygowski of firmware consulting firm 3mdeb presented at FOSDEM 2023 this weekend in Brussels. The focus of Żygowski's presentation for the Free Open-Source Developers' European Meeting was on the current client and server hardware state for AMD platforms with Coreboot / open-source firmware.
While AMD hardware still doesn't enjoy as much Coreboot support as many enthusiasts would desire, it's improving bit by bit. AMD has supported Coreboot with their Picasso Ryzen 3000 series APUs and Cezanne Ryzen 5000 series APUs as part of their efforts around Chromebooks.
Last year Coreboot saw
patches for the AMD Sabrina SoC
surface and that ended up being
support for the newer AMD Mendocino SoCs
.
Aside from the AMD-powered Chromebooks that can boot with Coreboot, Star Labs is making use of the AMD Cezanne Coreboot port for their Byte MkI and StarBook Mk VI laptops. Though due to not having all the firmware blobs public users can't build a working image currently.
More recently there has been
AMD Coreboot enabling for the "Glinda" SoC
. Glinda appears to be a temporary codename like Sabrina and little public information ultimately on what the Glinda SoC will be in the marketplace. As part of the Glinda and Morgana SoC work has also been
some AMD reference board enablement
.
For those with older AMD motherboards back when AMD was more open with AGESA years ago and actively embracing Coreboot, many of those old motherboard ports have been getting removed from the mainline tree for not supporting modern Coreboot interfaces and the code just not being well maintained.
Of the old AMD platforms with Coreboot support, Michael commented, "at this point all old AMD platforms are doomed (sooner or later)."
In the past there was also talk of
Project X for open-source firmware on AMD Zen CPUs
but that particular effort seems to have stalled.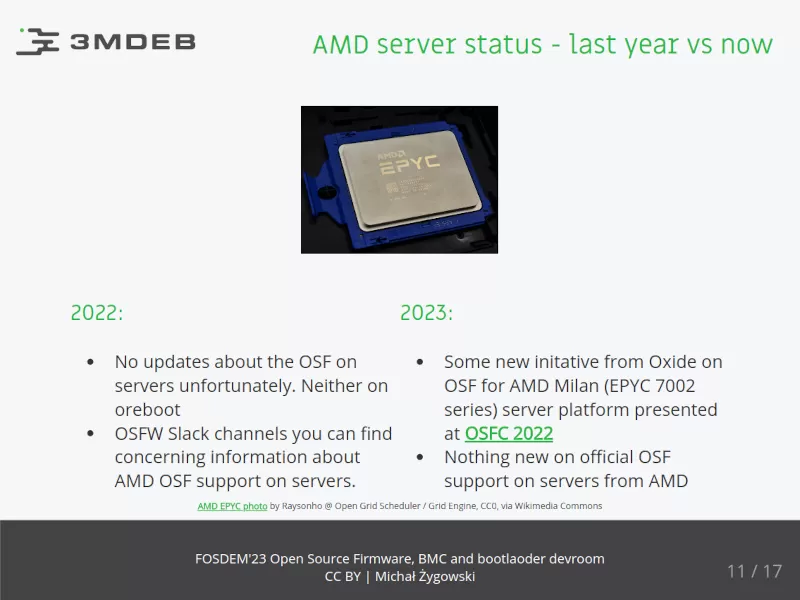 When it comes to AMD open-source firmware support on AMD EPYC servers, there isn't much at this point. Oxide Computer Company has been working on some firmware support for AMD EPYC 7002 "Milan" processors but sadly no big Coreboot play by AMD yet on the server side.
Those wishing to see the current summary of AMD open-source firmware support can see
this slide deck
(PDF) from 3mdeb's Michał Żygowski at FOSDEM 2023.
During the FOSDEM presentation it was also raised that hardware vendor PC Engines has
stopped
sponsoring open-source firmware development for their hardware.