Intel Publishes New DRM Driver For Their Arria 10 FPGA System
An Intel engineer has published the "Intel FPGA Video and Image Processing Suite" DRM driver today for Linux. This Direct Rendering Manager is intended for use with their Arria 10 FPGA system when combined with Intel DisplayPort IP.
Intel developer Ong Hean Loong explained:
The FPGA FrameBuffer Soft IP could be seen as the GPU and the DRM driver patch here is allocating memory for information to be streamed from the ARM/Linux to the display port. Basically the driver just wraps the information such as the pixels to be drawn by the FPGA FrameBuffer 2.

The piece of hardware in discussion is the SoC FPGA where Linux runs on the ARM chip and the FGPA is driven by its NIOS soft core with its own proprietary firmware.

For example the application from the ARM Linux would have to write information on the /dev/fb0 with the information stored in the SDRAM to be fetched by the FPGA framebuffer IP and displayed on the Display Port Monitor.
The Video Frame Buffer II sits between the system memory and Avalon-ST video ports. Only a single frame-buffer is supported by this setup on the Arria 10 developer kit.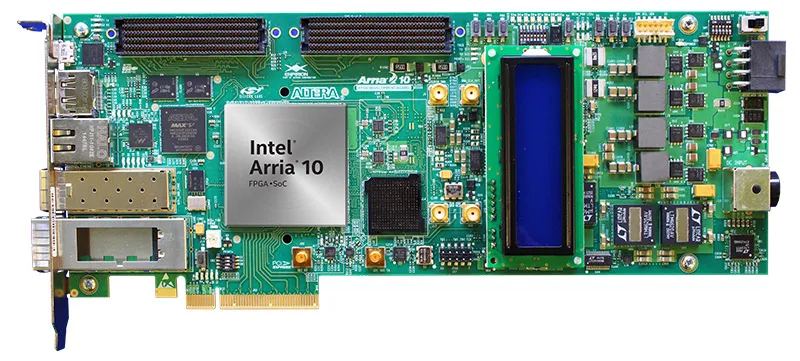 Intel's Arria 10 FPGA Development Kit is a PCI Express based board that allows for the full capabilities of the company's Arria 10 FPGA to be exploited with having access to 2GB DDR4, 2GB DDR3, a PCIe x8 edge connector, SDI, character LCD, etc. This FPGA developer kit retails for just under $4500 USD. Those wishing to learn more about the Arria 10 developer kit can do so at
Intel.com
as well as on
the Arria 10 FPGA itself
that stems from their acquisition of Altera.
The proposed Intel FPGA Video and Image Processing Suite driver can be found on
dri-devel
.