AMD Ryzen 9 7900X / Ryzen 9 7950X Benchmarks Show Impressive Zen 4 Linux Performance
Thankfully it's been a pleasant experience running with the AMD Ryzen 9 7900X and Ryzen 9 7950X processors since receiving them just shy of two weeks ago. The new AMD AM5 platform and the 7900X/7950X key support is in place under Linux along with some items like k10temp and RAPL power monitoring also working -- a pleasant change when some of those items haven't been there until after launch. There also isn't any headaches like in the past where some BIOS bugs, RdRand issues, and other early support issues have been a nuisance for early Linux customers.
The most significant issue still being resolved is the audio support for AM5 motherboards. With Linux 6.0 Git the HDMI/DP audio support works for the integrated Radeon graphics but the integrated motherboard audio isn't in place. There is the new Raphael audio driver with Linux 6.0 that should be working with this yet-to-be-stable kernel but was not in my case. I'll be looking more at the audio support shortly but had limited time before launch. It may also be an ASUS specific issue with this particular motherboard being used.
The other caveat as already pointed out in this article and the concurrent gaming article is needing a recent Linux 5.18+ and Mesa 22.2+ stack if wanting to make use of the Radeon integrated graphics. Additionally, linux-firmware.git is also needed as of mid-September for the necessary firmware binaries.
The AMD Ryzen 7000 series testing has been happening with an ASUS ROG CROSSHAIR X670E HERO motherboard, also kindly supplied by AMD as part of the review kit, along with 2 x 16GB GSKILL DDR5-6000 memory supporting the AMD EXPO profiles.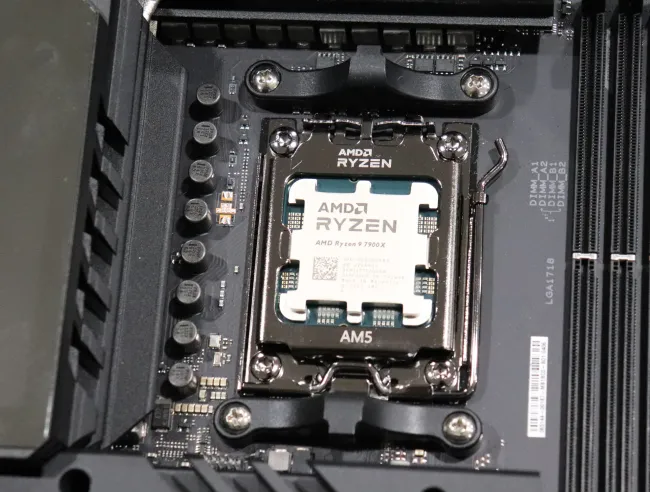 For those looking at AMD Ryzen 7000 series processors for servers/workstations, the Ryzen 7000 series processors do continue to support ECC memory. But like with the Ryzen 5000 series, the motherboard support for ECC memory will vary.
The processors tested for today's Linux CPU benchmark comparison included:
- Core i9 11900K
- Core i5 12600K
- Core i9 12900K
- Ryzen 9 3900X
- Ryzen 9 3950X
- Ryzen 5 5600X
- Ryzen 7 5700G
- Ryzen 7 5800X
- Ryzen 7 5800X3D
- Ryzen 9 5900X
- Ryzen 9 5950X
- Ryzen 9 7900X
- Ryzen 9 7950X
All of these processors were freshly (re)benchmarked atop Ubuntu 22.04 LTS with the Linux 6.0 kernel and GCC 12 compiler. As usual for our CPU reviews, the performance governor was used across all tested CPUs. The Intel Alder Lake and Zen 4 processors were all tested with 2 x 16GB DDR5-6000 memory, the Zen 3 and Rocket Lake CPUs on standard 2 x 16GB DDR4-3600 memory. All of the systems were tested with an AMD Radeon RX 6800 XT, Samsung 980 PRO 2TB NVMe SSD, and running Ubuntu 22.04 LTS with Linux 6.0 + Mesa 22.3-devel.
Let's move on to the AMD Ryzen 9 7950X / 7900X Linux benchmarking.