Show Your Support: Did you know that the hundreds of articles written on Phoronix each month are mostly authored by one individual? Phoronix.com doesn't have a whole news room with unlimited resources and relies upon people reading our content without blocking ads and alternatively by people subscribing to Phoronix Premium for our ad-free service with other extra features.
Ubuntu Making Progress On The Lenovo ThinkPad X13s Arm Laptop Support
The Lenovo ThinkPad X13s is one of the most interesting Arm-powered laptops at the moment with this laptop powered by a Qualcomm Snapdragon 8cx Gen 3 SoC, 13.3-inch 1920 x 1200 display, up to 32GB of RAM, up to 28 hour battery life, and current pricing starting below $1k USD. Upstream Linux support has been progressing around the ThinkPad X13s and it looks like Ubuntu has also been making some strides on easily supporting this Arm laptop.
Linux 6.0 ended up adding
initial support for the Snapdragon 8cx Gen 3 and the ThinkPad X13s
while at that time it still was very much a work-in-progress. Lenovo has been
helping in the ThinkPad X13s
as part of their overall Linux support effort.
An important milestone being hit with the upcoming Linux 6.3 cycle is
the MSM DRM driver supporting the 8cx Gen 3 graphics
.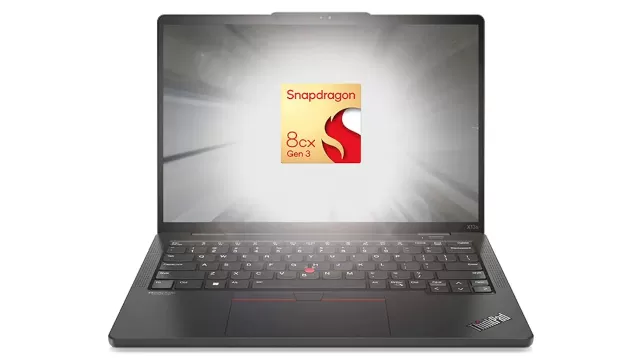 Over on the Ubuntu front they have been making progress on bringing up their distribution on this nice Qualcomm-powered laptop.
Heinrich Schuchardt with Canonical
commented
yesterday in a status update: "
Created a preinstalled image. It runs fine from NVMe but running from USB still suffers from a Linux 6.2 kernel issue. Tested a new kernel with EFI variable support.
"
So he's able now to get a pre-installed Ubuntu image running on the ThinkPad X13s from the NVMe storage. The EFI variable support with updated kernel addresses some bugs previously raised by Schuchardt for the X13s support on Ubuntu.
This Launchpad query
shows those bugs being addressed by him around the X13s.
It will be interesting to see if by the time of the Ubuntu 23.04 release if the support is in good enough shape that a ThinkPad X13s image is published or ultimately how far the Canonical engineers will be pushing this effort given the ThinkPad X13s is one of the most promising Arm laptops at the moment. In any event it's great seeing progress being made.