Happy Holidays! If you enjoy all the original Linux hardware reviews and open-source news content on Phoronix, consider joining Phoronix Premium this holiday season. For Black Friday / Cyber Monday, there is a cyber week special to go premium and enjoy an ad-free experience, native dark mode, and multi-page articles presented on a single page.
Valve Revises Steam Survey Results For December - Still Pointing Down For Linux
Yesterday Valve published their Steam Survey results for December and
pointed to some really odd discrepancies
. Valve this evening has revised the Steam Survey results that address some of the statistics oddities but still points to the Linux gaming marketshare as a percent regressing during the past month and also the Steam Deck usage declining relative to the overall Linux gaming base.
The initial Steam Survey results for December were very odd. For November 2022 the Steam Survey results came in at 1.44% for the overall Linux gaming size relative to the total Steam user base:

But yesterday's Steam Survey data initially reported a 1.38% marketshare, but as a 0.1% increase over the month prior... Not adding up when the prior month was 1.44%. So which number is accurate?

Well, today the numbers have been updated... Valve is still reporting the Linux gaming marketshare at 1.38%, while the update indicates a 0.06% decline rather than 0.1% increase. This jives with the numbers reported for November.

So assuming today's update is accurate, indeed the Linux gaming marketshare as a percentage of overall Steam users did decline for December. But if Steam did see a big uptick in the absolute userbase size, in absolute terms the Linux gaming base might not have shrunk but simply not grown as fast as Windows. Today's update reports Windows at 96.15% of the customer base and macOS at 2.48%. With the graphics comparison above you can also see the Steam Survey update also changed the individual Linux distribution results too.
Interestingly with today's update it does still point to Steam Deck / SteamOS usage declining relative to the Linux gaming marketshare as a percent. SteamOS Holo use, AMD CPU usage, and the Steam Deck GPU use all point to being down for the month of December.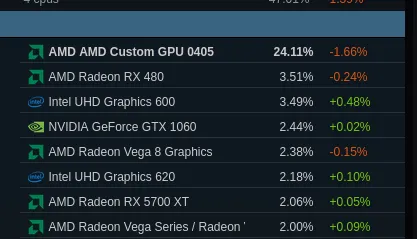 One possible explanation for the Steam Survey results for December coming out lower than expected on the Linux side is more Steam users being active as a result of Christmas / New Year's / end-of-year holidays and thus more gaming taking place. Valve is also currently running their Steam Winter Sale that may lead to more (Windows gamers) signing in to purchase games compared to Linux gamers. We'll see next month if Linux and Steam Deck usage ticks back up or the movement going forward. As of now Steam Deck gamers appear to account for roughly a quarter of the Steam on Linux usage, which isn't bad at all considering the device launched just 11 months ago.
The revised Steam Survey data can be found on
SteamPowered.com
.