There's Little Love For Ubuntu's Unity Desktop
The announcement of
Ubuntu dropping the GNOME shell in favor of their own Unity interface
that came during Mark Shuttleworth's keynote to kick off their
Ubuntu 11.04
development summit has not been welcomed by many Linux users.
Of the
three pages of comments
(and it continues to grow) within our forums, there isn't anyone that's actually happy to see Unity coming to the Ubuntu Desktop rather than the GNOME 3.0 Shell. Many users have already tried the current Unity desktop used by Ubuntu 10.10 Netbook Edition and there's just lots of complaints.
The comments within the
Phoronix Forums
range from "I've heard nothing but complaints (mostly about speed) from people that have tried Unity. Now I have even more reason to recommend Kubuntu instead." to "If this isn't a April's fool and finally Ubuntu make this move I will move to Fedora or ArchLinux again..." It's just not within our forums where users are feeling unhappy, but there's anti-Unity sentiment at most places today discussing this major Ubuntu 11.04 announcement.
About the only positive direct benefit being expressed right now is that Ubuntu's Unity interface may be better than the GNOME Shell for those with pen or touch-screen interfaces, but that isn't many and they are probably already using the Ubuntu Netbook version. Some feel this is Canonical's attempt to fully own the copyright to the Ubuntu interface, and that while Ubuntu 11.04 will still offer up the various GNOME applications, eventually more of the GNOME packages may be forced out of the stock installation.
We also found out today that GNOME's Mutter will no longer be used as the compositing window manager for the Unity desktop. Canonical has decided they will switch to using Compiz.
The Compiz developers are happy
to now have the backing of Canonical. Evidently the reasoning for replacing Mutter with Compiz are performance related and new interfaces exposed by Compiz 0.9 (
Compiz 0.9.2 just came yesterday
).
While
I tested the Unity Desktop the day it was announced
back in May of this year, I hadn't tried the Ubuntu 10.10 Netbook Edition release due to
Munich's Oktoberfest
and other engagements. After hearing Mark's announcement this morning, I decided to pull out a laptop with a clean install of Ubuntu 10.10 and upgrade against the latest Ubuntu 11.04 "Natty Narwhal" packages, including the Unity Desktop.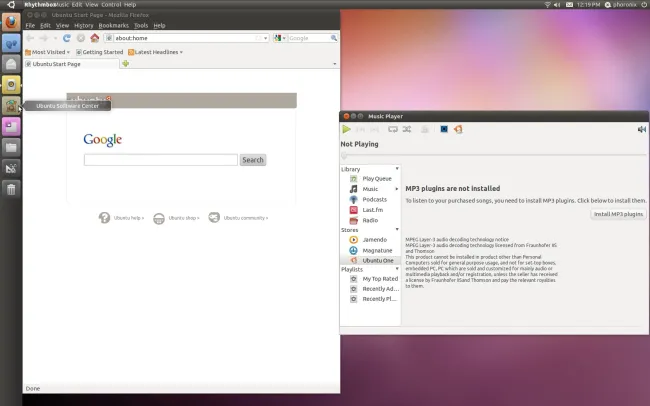 It only took a few minutes to realize that the Unity Desktop is very much a disappointment for desktops; that's not to say though it's not good for netbooks and other small screen devices. Screenshots from the latest Unity packages are shown in this article. For desktop usage, in my opinion, the GNOME Shell is much better at this point. The Unity developers have a whole lot of work ahead of them in the next six months if they wish to keep Ubuntu users happy. At least the GNOME Shell will still be in the Ubuntu Natty package repository so it's just a matter of
sudo apt-get install gnome-shell
for those that don't lose faith in Ubuntu's direction.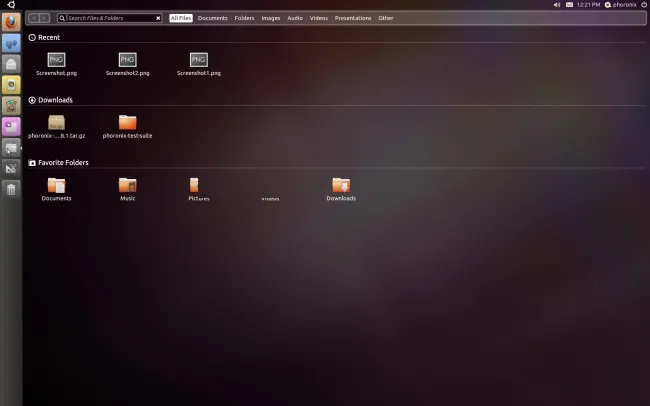 There is, however, presumably at least one bit of good news out of today's announcement. With Unity needing Compiz/Mutter to run, accelerated graphics drivers are a requirement. This means we will probably see Nouveau's Gallium3D driver make it into Ubuntu 11.04 by default. Otherwise,
a whole lot of users
with NVIDIA hardware will have a very poor out-of-the-box experience when trying out Ubuntu. There's also still plenty of situations where there aren't open-source accelerated GPU drivers available either temporarily (such as with
the AMD Radeon HD 6000 series on Linux
or permanently, so
if Gallium3D's LLVMpipe can get a compositing window manager running
, maybe we'll find that by default in Ubuntu rather than the crippled Mesa software rasterizer that is effectively useless.
Let's hope that this Unity switch
lasts as long as Canonical's affair with Yahoo
when
they became the default search engine
within Ubuntu's Firefox, which was broken up by user outrage, but it's unlikely we'll see this happen with Unity unless they just push back the switch to Ubuntu 11.10. Doing so would at least allow their desktop interface to become more polished and also provide time for the open-source display drivers to further mature.