Show Your Support: Did you know that you can get Phoronix Premium for under $4 per month? Try it today to view our site ad-free, multi-page articles on a single page, and more while the proceeds allow us to write more Linux hardware reviews. At the very least, please disable your ad-blocker.
I No Longer Have Any Trust In The Nest Protect
Earlier this year I wrote about
protecting our Linux test farm with the Nest Protect
. While I own ten of these "high tech smoke detectors" and initially recommended, I no longer trust them after a long night.
In the middle of the night I was alerted to "smoke in the bedroom" by all ten Nest Protects going off with the alert and siren, plus alerts going into mine and Fataima's phone. Quickly investigating, there was no smoke to be found in the bedroom or any other room... Nor anything resembling smoke or any other causes for concern. The fire alarms tied to the security system also hadn't sensed any smoke.
At first pushing the Nest button I thought the silencing worked, but nope, it came back to broadcasting across all of the Nest devices that there was smoke -- when there was not. I disconnected that particular Nest Protect from the AC power, took it to another room, still reported smoke. Putting the Nest Protect in a kitchen pot with lid still claimed of smoke and produced warnings... This particular Nest unit was bought just earlier this year and was going insane in the middle of the night.
When removing the unit from my Nest account, somehow all of the other Nests were still relaying these warnings. I couldn't find a way to stop it.
In the end, I ran out to my garage, 20lb sledgehammer, and began whacking on the device... Few hits later, peace and quiet was restored... I must say though, was quite impressed with the build quality of the Nest Protect. The housing broke but the Nest Protect remained largely intact after meeting the sledgehammer.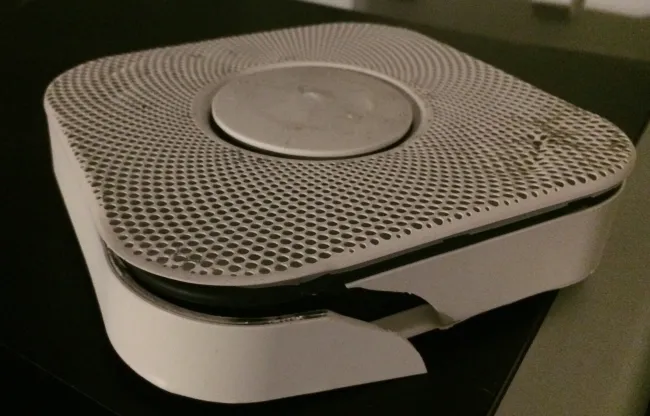 After that, it was a matter of just calming down the dogs, taking a few shots of vodka after the agitating experience, and then everything was back to normal. The other Nests seem to be working fine since then, but this device seemingly failing after just a few months is worrying, as well as the headaches involved in trying to silence them on a false alarm. At this point I'm not sure what I am going to do, but I look forward to hearing from Nest, though not sure I'll buy another Protect again (at least the thermostat is still trouble-free and great).