My New Linux Ultrabook: The ASUS Zenbook UX301LA-DH71T
The ASUS Zenbook UX301LA-DH71T is a Haswell-based Intel ultrabook that I have found to be quite interesting and will be carrying out a large number of Linux tests (and Windows 8.1 vs. Linux benchmarks) from this laptop that sports Intel Iris Graphics 5100, dual SSDs, and other impressive features.
For those that
follow me on Twitter
know that for some days now I've been looking to replace my
2012 Retina MacBook Pro
. The Apple rMBP is now a year and a half old, which is old by my standards especially for the system that I'm using ~16 hours a day and 365 days per year. This main production system is for carrying out all of my business matters, emails, writing, code development, benchmark development, etc. It's also Ivy Bridge based and originally I was going to wait until
Broadwell
to get a new laptop but with some interesting Haswell ultrabooks out there now I decided to go ahead and upgrade now, especially as the Retina MacBook Pro is beginning to have clock skew issues.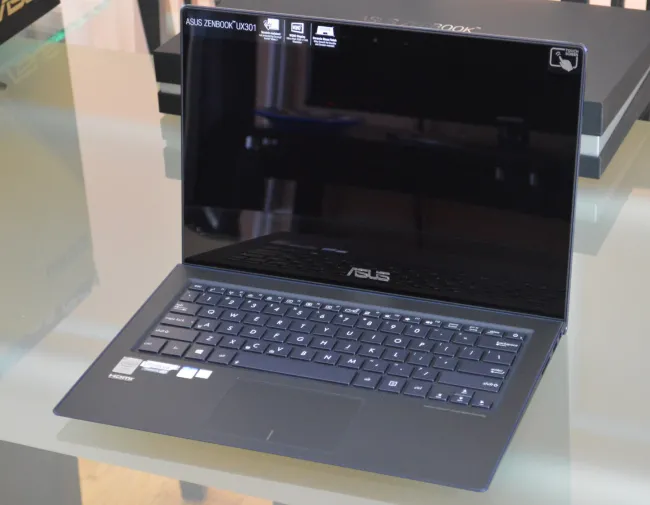 The laptop/ultrabook that I settled for that you'll see a full Linux review on along with plenty of interesting benchmarks is the ASUS Zenbook UX301LA-DH71T. The UX301LA-DH71T has an Intel Core i7 4558U processor with Iris HD Graphics 5100, dual 128GB SSDs capable of RAID, 802.11ac WiFi, 8GB DDR3L-1600MHz memory, and a six-cell battery with a reported life up to eight hours. The Intel Core i7 4558U CPU is dual-core with Hyper Threading and has a base frequency of 2.8GHz but its Turbo Frequency tops out at 3.3GHz. The TDP on the processor is 28 Watts. When it comes to the display of this Haswell Zenbook, it's a 2560 x 1440 WQHD 13.3-inch screen that is touch-capable.
Among the reasons I settled for the Zenbook UX301LA-DH71T were:
- The past two main systems of mine have been MacBook Pros, where I would be running OS X and then using VMware to virtualize Ubuntu Linux atop and running that full-screen most of the time. That combination I've found for best Linux compatibility on Macs and for also maximizing the battery life since running Linux bare metal on many modern laptops will lead to poor results. I've bought MacBook Pros in the past for their build quality, design, and overall features. Fortunately, with the UX301LA-DH71T I've found everything I need and its not from Apple.
- For the laptop I really didn't want any Optimus / dual GPU configuration since I am not a gamer and the overall multi-GPU situation on Linux is a mess... From the many Haswell systems I've run, for my needs I am plenty happy with their latest-generation HD Graphics for most tasks. Finally finding an Iris HD 5100 ultrabook is also a win. Last year I reviewed a
System76 Galago UltraPro Haswell Ultrabook
that featured
Iris Pro 5200 graphics
and they were fantastic but albeit had to return that review sample. I'm very excited to run some new Linux graphics benchmarks of the Iris Graphics 5100.
- The dual SSDs are a nice touch with RAID 0 capability but in the end I'll likely break it out of the RAID array and setup the second SSD for a more specialized backup configuration.
- The screen is fantastic for while travelling but the rest of the time my laptop is connected to a 27-inch display in my office.
- Haswell support on Linux is generally great and I've found great performance and been happy with the
ASUS Zenbook Prime UX32VD
(Ivy Bridge ultrabook) I bought a few months ago for Phoronix testing and it's still running great and frequently being tested.
- Great build quality of the ASUS Zenbook UX301LA-DH71T. The ultrabook's exterior also has Corning Gorilla Glass 3 for durability and scratch resistance.
I don't have any Linux benchmarks to share today as the laptop just arrived and I'm still running some Windows 8.1 comparison tests, but stay tuned for much more information and tests from the system in the days ahead along with the full Linux review of the ASUS Zenbook UX301LA-DH71T.
Those with questions or test requests for the Haswell ultrabook can direct them to
our forums
or
@MichaelLarabel on Twitter
.
Current pricing on this Haswell-based ASUS ultrabook is
$1850 USD at Amazon.com
(though I managed to get lucky when ordering it yesterday for $1699 after having been eyeing this model for a few days).