Librem 5 Smartphone Now Plans To Ship With KDE Plasma
There's a big shift in course for Purism's proposed Librem 5 smartphone, what was originally proposed as
a GNU/Linux smartphone running GNOME and HTML5 Web Apps
will now be working on KDE Plasma Mobile support.
They have been running their crowdfunding campaign now for three weeks and since the beginning planned to use GNOME as their upper-level stack relying upon some of its applications, delivering on their convergent plans, etc. They have collected nearly $300k towards their $1.5 million goal while this morning they are making a big shift in course with now planning to deliver this privacy-minded GNU/Linux smartphone experience using KDE Plasma Mobile.
KDE has agreed to cooperate with Purism in trying to come up with this Plasma Mobile stack for running on the proposed Librem 5 smartphone. This is a big surprise considering from the beginning their mockups have been with a GNOME-inspired interface, their crowdfunding campaign has collected quotes from GNOME developers / foundation members, etc.
Update:
I'm told by Purism that they will not be abandoning GNOME even with this Plasma Mobile shift. So at the moment the situation isn't entirely clear; I am told a GNOME announcement will happen in the near future.
KDE and Purism want to make the "world's first truly free smartphone", as they have issued in a press release that should be hitting the wire right now.
Here are their new design mockups in cooperation with Purism and KDE:
Compared to their previous mockups: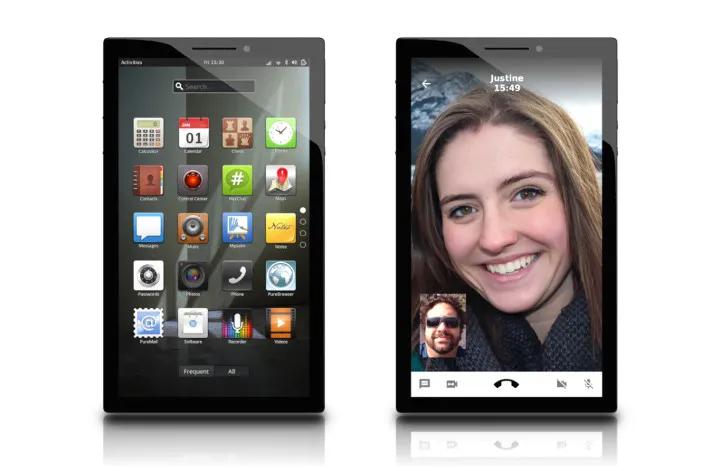 As a reminder about the KDE Plasma Mobile initiative, they are again mentioning this prototype video from 2015:
While the KDE Plasma Mobile initiative has been going on for a while now, Purism would be their first major hardware partner. Also worth mentioning is that Plasma Mobile has been dealing with Project Halium, the joint effort with Sailfish, Ubuntu Touch, Mer, and others in coming up with a common low-level stack to share by these different Linux operating systems targeting mobile. Halium does focus on libhybris and Android drivers. Up to now at least, Purism has said they intended to build their own complete phone stack, so it will be interesting to see if their newfound KDE love will also push them onto a Halium base.
Even with going the Plasma Mobile route, the Librem 5 smartphone remains an extremely ambitious plan to try to deliver this free software GNU/Linux smartphone by early 2019 while so far they have really nothing more than mockups and now the Plasma Mobile stack and have yet to firm up the phone's specification/design, etc. It's really tough to imagine everything coming together as planned when looking back at how Ubuntu Touch, Sailfish, Firefox OS, OpenMoko, and other initiatives have let down. We'll see if this midcourse change is enough to push Purism to their Librem 5 goal of $1.5 million USD: or about $1.2M more to raise over the next 39 days. Latest details on their
campaign page
.