Show Your Support: Did you know that the hundreds of articles written on Phoronix each month are mostly authored by one individual? Phoronix.com doesn't have a whole news room with unlimited resources and relies upon people reading our content without blocking ads and alternatively by people subscribing to Phoronix Premium for our ad-free service with other extra features.
Project Amber Officially Launches As The Intel Trust Authority
Last year Intel
announced Project Amber
as an effort to verify the trustworthiness of clouds. Project Amber was talked up as "an innovative service-based security implementation" for the remote verification of the trustworthiness of compute assets. Project Amber is now rolling out as the Intel Trust Authority.
Project Amber / Intel Trust Authority relies upon Software Guard Extensions (SGX) and other hardware features of Intel Xeon Scalable processors to determine the trustworthiness of clouds. This attestation service works with both public and private cloud providers and can also work for bare metal containers.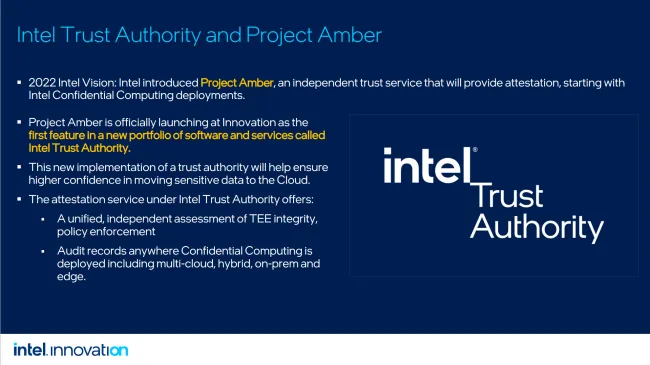 Currently the Intel Trust Authority focus is on the CPU-based Trusted Execution Environments (TEEs) but with plans to extend it for device verification of GPUs, IPUs, and more. With the early communications around the Intel Trust Authority, compared to last year where Project Amber was mostly promoted as being for clouds, with the Intel Trust Authority announcement there's also more focus on edge and network device attestation too.
General availability of Project Amber was expected for H1'2023 while now in September it's officially launched and is being called the Intel Trust Authority.