Show Your Support: Have you heard of Phoronix Premium? It's what complements advertisements on this site for our premium ad-free service. For less than $4 USD per month, you can help support our site while the funds generated allow us to keep doing Linux hardware reviews, performance benchmarking, maintain our community forums, and much more.
Intel Lands An AV1 QSV Encoder In FFmpeg
While Intel contributed
oneVPL support to FFmpeg
this summer that can be used for video encoding/decoding to AV1 and other formats, this past week Intel engineers contributed an AV1 encode Quick Sync Video (QSV) encoder too for FFmpeg. This AV1 encode path using their Media SDK with QSV is ultimately building atop oneVPL.
Merged this week to mainline FFmpeg is the new "qsvenc_av1" / "av1_qsv" encoder. On Windows and Linux the QSV API is available via the
Intel Media SDK
while the Intel Quick Sync Video AV1 encoder is making use of oneVPL underneath as the video processing library that is part of Intel's excellent and open-source oneAPI software suite.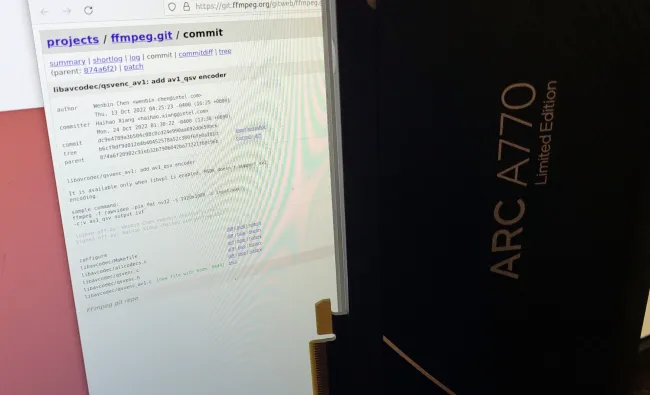 This code
was contributed by Intel engineers to upstream FFmpeg just as they have done with the prior oneVPL integration and other video acceleration contributions over the years to benefit their graphics hardware on Linux and Windows.
Accelerated AV1 encode with Intel discrete graphics hardware is available with their DG2/Alchemist GPUs such as the recently launched
Arc Graphics A750 and A770
models. For those lacking a new GPU capable of AV1 encode, FFmpeg continues to support CPU-based AV1 encoding when built against libaom, rav1e, or the Intel-developed SVT-AV1.
For those with Intel Arc Graphics or Data Center GPU Flex Series and wanting to try out Intel's very latest video acceleration patches being worked on for upstreaming,
try the Intel FFmpeg cartwheel repository
.