Show Your Support: Did you know that the hundreds of articles written on Phoronix each month are mostly authored by one individual? Phoronix.com doesn't have a whole news room with unlimited resources and relies upon people reading our content without blocking ads and alternatively by people subscribing to Phoronix Premium for our ad-free service with other extra features.
Running OpenGL 4.1, DRI3 With Mesa Git On An AMD Cayman GPU
As of earlier this month in Mesa Git is
finally OpenGL 4.0 and 4.1 support
for the Radeon R600g driver for pre-GCN hardware, albeit the subset capable of advertising GL4 compliance is right now just Cypress and Cayman. I took this opportunity to run some fresh Mesa Git benchmarks on an AMD Cayman GPU and a third run when enabling DRI3.
The Cayman GPU used for this round of testing was the Radeon HD 6950 but rather a FirePro V7900, the old workstation card with a "Cayman Pro GL" GPU and 2GB of GDDR5 video memory that's still available to this day and commanding a
$700+ USD price
for a brand new card.

The days when AMD used to send out (a lot of) review samples to Phoronix for Linux testing...
This Cayman graphics card was indeed able to advertise OpenGL 4.1 when upgrading to Mesa Git. For an easy experience, from an Ubuntu 15.10 install I just enabled the Padoka PPA that ships Mesa Git alongside LLVM SVN.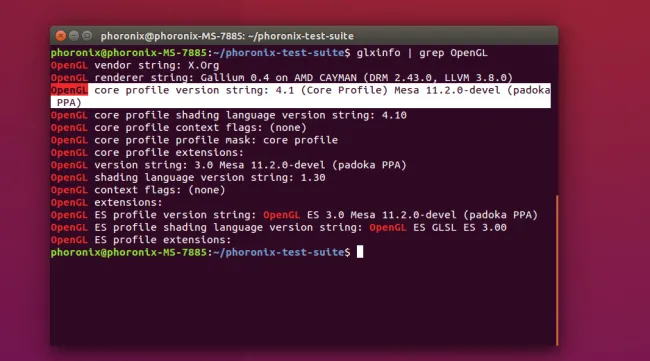 For this brief comparison, I compared the performance with stock Mesa (v11.0.2) to Mesa 11.2-devel Git and then finally Mesa 11.2-devel Git while manually enabling DRI3. In an article last month I was showing off
the significant DRI2 vs. DRI3 performance
.
The kernel version was maintained on Linux 4.4 Git throughout testing. All benchmarks were run in a reproducible manner via the
Phoronix Test Suite
.
The tests run for this one-page article aren't using OpenGL 4 but this comparison is mainly for some new Mesa Git + DRI3 data.
You can find more of this data via
this OpenBenchmarking.org result file
.