An Early Preview Of The Next-Gen Phoromatic Interface
Here's an early look at the next-generation Phoromatic web configuration interface for remotely managing multiple test systems in a coherent way with
Phoronix Test Suite
5.2-Khanino and newer.
Going back nearly a half-decade we have had
Phoromatic
as an enterprise add-on to the Phoronix Test Suite to yield centralized test management system capabilities and provide other features aimed toward those routinely carrying out system benchmarks on a wide array of hardware. "Phoromatic is a remote management system for the Phoronix Test Suite. Phoromatic allows the automatic (hence the name Phoromatic) scheduling of tests, remote installation of new tests, and the management of multiple test systems all through an intuitive, easy-to-use web interface. Tests can be scheduled to automatically run on a routine basis across multiple test systems. The test results are then available from this central, secure location."
With the upcoming Phoronix Test Suite 5.2-Khanino release, we are landing a complete rewrite of Phoromatic that sports a new user-interface and a lot of other features will be introduced. Most of the Phoromatic code is also living within the Phoronix Test Suite source-tree.
Due to the tighter integration with the Phoronix Test Suite code-base and packaging it within the same repository, Phoronix Test Suite 5.2+ users will simply be able to launch
phoronix-test-suite start-phoromatic-server
to deploy a Phoromatic server for their LAN that they can then remotely manage via the web-based GUI and the other test systems on their network connect to. However, for local result storage "behind the firewall" and other local result analytic features, enterprise support access is still required through cooperation with
PTS Commercial
. For those just wishing to upload their data to
OpenBenchmarking.org
, you'll be good to go with Phoronix Test Suite 5.2 and not needing to route to Phoromatic.com.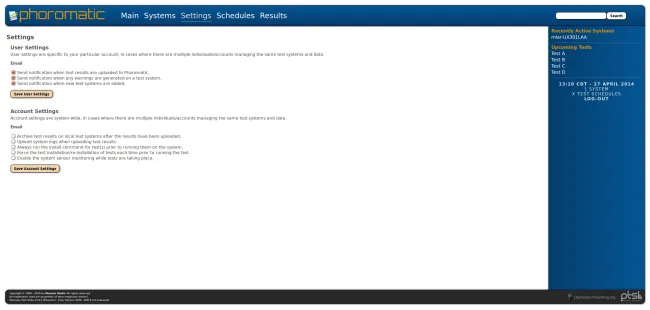 The code within the
Phoronix Test Suite GitHub repository
isn't quite ready yet to be used for Phoromatic deployments yet... I hoped to have that all up and running this past week with porting of some old Phoromatic code, but that's still happening. Hopefully in the next few days that will become a working reality so I can move ahead with tagging 5.2-Khanino development releases.
The screenshots in this article are of the new PTS-hosted Phoromatic web interface. Of course, still being pre-alpha, many more features and additions are coming. Your feedback and requests are welcome or if you're interested in an enterprise engagement or any other custom engineering work on the
Phoronix Test Suite
open-source automated benchmarking software. Visit
Phoromatic.com
for more details on the existing centralized, time/trigger-based benchmarking product.