NVIDIA & AMD Linux Gaming Performance For Total War: Warhammer II At 1080p / 1440p / 4K
Now with having more time to test this week's release of Total War: Warhammer II on Linux, here is a large 14-way graphics card comparison of various AMD Radeon and NVIDIA GeForce GPUs. With more time plus an updated version of the pts/tww2 test profile to address a resolution scaling issue, tests are done at 1080p, 1440p, and 4K resolutions as well as providing performance-per-dollar metrics for this latest Vulkan-powered high profile Linux game port.
Feral Interactive who ported this game to Linux and macOS lists the requirements on the Vulkan-powered Linux port as a GeForce GTX 680 / Radeon R9 285 as a minimum, which makes sense considering its necessary to use Vulkan and those are the oldest top-tier cards with Vulkan support. It may be possible running this game with GCN 1.0/1.1 era hardware on the AMD side when switching from the Radeon DRM driver to AMDGPU in order to have RADV Vulkan driver support. For the best Linux gaming experience, Feral recommends at least a GeForce GTX 970 or Radeon RX 480 graphics card. The game needs at least Mesa 18.1.5 or NVIDIA 396.54, which is quite modest and easily achieved by most Linux distribution distribution repository packages.
With this Total War: Warhammer II Linux benchmarking on Ubuntu 18.10, the system was manually upgraded to the Mesa 19.0-devel state via the Padoka PPA. On the NVIDIA side was their brand new NVIDIA 415.18 driver release. The Linux 4.19.2 kernel was used throughout the entire testing process. In this latest round of benchmarking the following graphics cards were tested based upon the cards I had available:
- GTX 970
- GTX 980
- GTX 980 Ti
- GTX 1060
- GTX 1070
- GTX 1070 Ti
- GTX 1080
- GTX 1080 Ti
- RTX 2070
- RTX 2080 Ti
- RX 580
- R9 Fury
- RX Vega 56
- RX Vega 64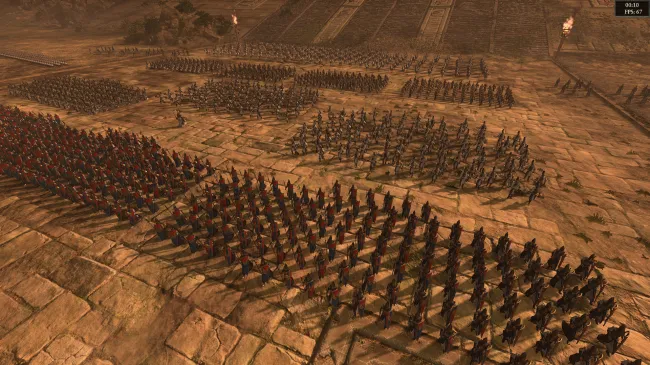 Tests were done at 1920 x 1080, 2560 x 1440, and 3840 x 2160 using
the Warhammer 2 test profile
and automation provided by the
Phoronix Test Suite
. Tests were done with medium, high, and ultra quality visuals. Low quality settings were left out as the game has been crashing in the various configurations I have tried under low quality settings. The Fallen Gates Battle scene was used for benchmarking with it being more demanding than the Skaven Battle. Following the raw performance results are also power consumption and performance-per-dollar data too.
If you enjoy my daily Linux benchmarks from gaming to kernel performance tests, consider showing your support by enjoying this year's Black Friday deal. Premium allows you to see articles like this on a single-page, ad-free, among other benefits.