System76's Bonobo Extreme Tries For Extreme Performance
One of the newest laptops out of System76, the well known hardware vendor in Linux circles for their Ubuntu support, is the latest version of their Bonobo Extreme. While the laptop weighs 8.6 lbs / 3.9 kg, it does aim to offer extreme Linux performance.
The System76 Bonobo Extreme is advertised as "Extreme Performance from Extreme Components" and with that the Colorado-based PC vendor is packing Haswell-based Core i7 processors, 17.3-inch 1080p display, NVIDIA GeForce GTX 860/870/880M graphics, DDR3-1600MHz memory, dual SATA 3.0 drives, dual mSATA drives, multi-touch support, and runs off an eight-cell battery. For those that need very high-end components within a somewhat-portable laptop (I wouldn't want to be carrying around a nearly nine pound laptop that's almost two inches thick on a daily basis) that is Linux friendly, the Bonobo Extreme looks interesting and ships with Ubuntu 14.04 LTS. Aside from the weight and size, for a 17-inch display it would have been nice to see a higher resolution display than just 1080p.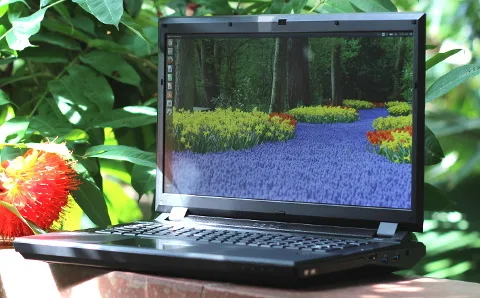 While we don't have our hands on the Bonobo Extreme Ubuntu laptop to review right now, System76 has uploaded some initial performance figures for this device via the
Phoronix Test Suite
and
OpenBenchmarking.org
.
System76 has provided open-source Linux performance results from their Bonobo Extreme equipped with an Intel Core i7 4900MQ (Haswell CPU; 2.80GHz; quad-core + HT), 8GB of DDR3 system memory, Samsung Series 840 SSD, and NVIDIA GeForce GTX 860M graphics. Ubuntu 14.04 LTS with the Linux 3.13 kernel and NVIDIA 331 binary blob were in action.
Available are some
gaming benchmarks
and
video encoding tests
from the laptop. If we see anymore results uploaded to OpenBenchmarking.org like any battery tests or other interesting performance data, we'll pass it along. If you wish to see how your current system performance compares to the System76 Bonobo Extreme, it's simply a matter of installing the
Phoronix Test Suite
on the Linux distribution of your choice and then run
phoronix-test-suite benchmark 1405138-PL-BONOBOEXT67 1405137-PL-BONOBOEXT79
. It's that easy with our fully-automated, open-source (GPLv3), benchmarking software! To learn more about the laptop visit
System76.com
.