NVIDIA GeForce GTX 750 Maxwell GPUs Light Up On Linux 3.15
With the
Linux 3.15 kernel
is
initial open-source support for NVIDIA's Maxwell GPUs
. I've tested the Linux 3.15-rc1 code today for the
GeForce GTX 750 Ti
and
GTX 750
"GM107" graphics cards.
When NVIDIA launched their first
Maxwell
products in February as the successor to the Kepler architecture,
NVIDIA sent out a GTX 750 to a Nouveau developer
. Now with the Linux 3.15 kernel cycle that's just begun, there's initial support for the new hardware, as outlined by
the Nouveau DRM changes in Linux 3.15
.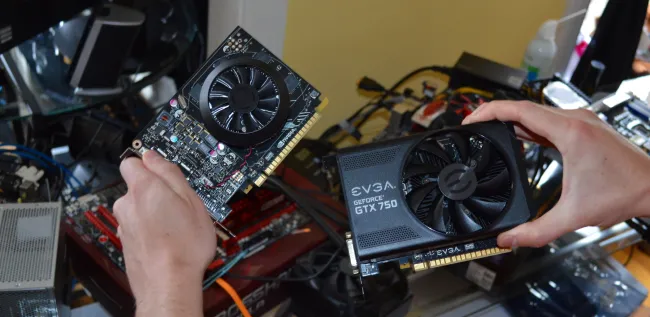 For any early GTX 750 owners, before getting too excited, the support is very preliminary. For the GTX 750 and GTX 750 Ti graphics cards I tested them today on Ubuntu 14.04 LTS x86_64 doing a clean install and then using the latest daily Linux 3.15 kernel package from the Ubuntu mainline kernel archive. With both graphics cards, the system booted up fine on Linux 3.15 with the Nouveau DRM driver taking care of the kernel mode-setting for this hardware. In fact, it mode-set correctly for dual-link DVI on a 30-inch Samsung 2560 x 1600 display for these two mid-range graphics cards.
Besides mode-setting support, there isn't much more to the Nouveau Maxwell support at this time. There is initial hardware acceleration on the kernel side with Nouveau 3.15, but it requires using the extracted microcode/firmware from the NVIDIA binary driver. Within a future version of the Linux kernel should come the ability for the Nouveau DRM to generate its own firmware, similar to past generations of support by Nouveau, so it doesn't require the external firmware.
From the user-space side, that work is still an early work-in-progress for Nouveau Gallium3D support of Maxwell.
The last we heard
is that of mid-March, Ben Skeggs, the lead Nouveau developer at Red Hat, was able to get a triangle to render using his code. However, the ISA has changed completely with Maxwell and so it's likely to be some time before seeing a working Nouveau Gallium3D driver support Maxwell for day-to-day use that's within mainline Mesa. Regardless, at least mode-setting is working nicely for the new NVIDIA GeForce hardware with Linux 3.15.
For likely at least the next few months, NVIDIA Maxwell Linux users will be better off using the binary NVIDIA Linux graphics driver for full 3D acceleration support, near complete feature support, and performance that rivals the Windows driver. Once there is a working Maxwell Gallium3D driver, there's still the issue of Nouveau not yet having suitable re-clocking support for allowing the NVIDIA GPUs to properly operate at their rated clock speeds.