MacBook Pro - Ubuntu Linux: 21 Watts, OS X: 9 Watts
Earlier today I published the long-awaited
benchmarks of OS X 10.8 Mountain Lion vs. Ubuntu 12.04/12.10
. The benchmarks showed strengths and weaknesses of both operating systems, resulting in the the usual spectrum of comments from Phoronix readers. Here now are the power consumption results when comparing OS X and Ubuntu Linux on Apple hardware.
The power consumption results are happening when a late-2010 Apple MacBook Pro with Intel Core i5 520M "Arrandale" CPU was running OS X 10.8 Mountain Lion and then the latest development snapshot of Ubuntu 12.10. (This is the same MBP that was used in the benchmarking earlier today, where the full system details are mentioned.)
In most Phoronix power testing, the
Phoronix Test Suite
measures the AC power consumption via a
WattsUp USB-based power meter
that is backed by an open-source Linux utility that works well and the Phoronix Test Suite is able to automatically interface with the program. Unfortunately since the OS X support for the WattsUp power meter isn't on the same level, that ruled out using that device for today's cross-OS power measurements.
When running on battery power, the Phoronix Test Suite can also monitor the exposed ACPI battery information from the OS. However, with not knowing how Apple might be handling their ACPI battery information or if either OS is more or less correct than the other, that couldn't be used either for this testing.
As a result, for comparing the power consumption of OS X and Ubuntu Linux, a trusted SeaSonic AC power meter was measuring the power of the 2010 Apple MacBook Pro at the power outlet. With just running some simple idle and load tests, this ended up working out fine.
With Apple OS X 10.8 Mountain Lion on the 2010 MacBook Pro with Intel Core i5 processor, the system was idling at the desktop at just 9 Watts. Not bad for a two-year-old laptop to be idling at under ten Watts while running the latest software. When using the multi-threaded C-Ray test to stress all logical CPU cores, the average power consumption was about 46 Watts and never peaked above 50 Watts.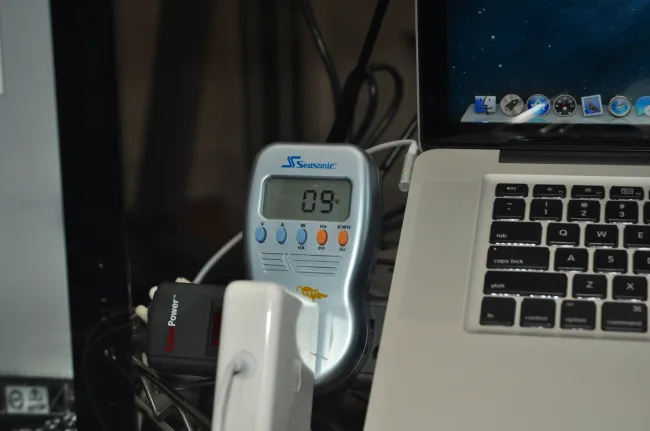 Next, Ubuntu 12.10 was tested from its clean install on the same laptop. Those results were very disappointing.
With Ubuntu 12.10 and the Unity desktop on the 2010 Apple MacBook Pro, it was idling at 22 Watts. Yep, more than twice the power consumption of OS X 10.8 on the same hardware. When booting or at any point of the idling process did it even come close to hitting 9~10 Watts. When loading up the same C-Ray multi-threaded ray-tracing test to keep the CPU completely busy, the average load was about 61 Watts -- again, much more than the sub-50 Watts of Apple's Mountain Lion. [In terms of power efficiency,
the actual C-Ray results were close
, so Linux was simply burning through excessive power but not delivering any greater performance-per-Watt.] Under this heavy CPU load, Ubuntu also ended up running the CPU fan at a higher rate than when OS X was running the same test profile. This is what the Linux hardware experience is like on a two-year-old Apple laptop, not even the latest
Retina MacBook Pro where Linux is a complete mess
.
Two years ago I began using Ubuntu Linux virtualized on OS X when noticing that initially the Linux power consumption was significantly higher than using Apple's operating system. While I've since moved onto using the Retina MacBook Pro as my main production system -- again with
Ubuntu virtualized atop OS X using VMware Fusion
since Linux is a wreck on the hardware at this point and
Linux also has Thunderbolt display problems
-- after performing these new clean tests I was rather surprised to see Linux continuing to do so sloppy when it comes to power efficiency.
Ubuntu 12.10 is burning through twice as much power when comparing the stock operating systems when idling and over 20% more power under load against OS X 10.8 Mountain Lion. Linux users can immediately blast Apple with negative comments that they're an unfriendly vendor, they're special since they control both the hardware and software, or that Linux users shouldn't buy Apple hardware, but there's plenty of Apple hardware out in the world that's popular with consumers and this is the experience they see if trying Linux.
It will be interesting to revisit these numbers in another year or even six months time... I'll also try the tests on some other Mac (Mini) hardware around here.