Show Your Support: Have you heard of Phoronix Premium? It's what complements advertisements on this site for our premium ad-free service. For less than $4 USD per month, you can help support our site while the funds generated allow us to keep doing Linux hardware reviews, performance benchmarking, maintain our community forums, and much more.
On Old Hardware, Think Twice About Ubuntu 12.04
With the official release of Ubuntu 12.04 LTS "Precise Pangolin" being less than one month away, the feature freeze having long passed, and the kernel freeze being imminent, it's time for the usual biannual Ubuntu Linux benchmarking festivities at Phoronix. In the coming days and weeks there will be numerous articles looking at the performance of Ubuntu 12.04 LTS when it comes to its desktop/workstation performance, boot performance, power consumption, and all sorts of other figures to judge the performance of Ubuntu's Precise Pangolin release. One area from the testing thus far that has stood out has been the Ubuntu 12.04 LTS performance on older PC hardware, but unfortunately it's not standing out for a good reason.
While there's long been various articles and tests of
Ubuntu 12.04
going to early in its development cycle on Phoronix, with the official release approaching and this being a Long-Term Support (LTS) release it's sparking lots of interesting tests. In the past few days there's been tests of all
the major file-systems on Ubuntu 12.04
,
Red Hat Enterprise 6.2 vs. Ubuntu 12.04 LTS
, comparing Ubuntu's kernel to
the Liquorix kernel
, and then
a large virtualization comparison
for this Ubuntu release that's sure to be popular in enterprise environments given its cloud-focus and enterprise support status.
Ubuntu 12.04 LTS for ARM
has also been especially interesting.
Several other (and arguably even more interesting) Ubuntu 12.04 LTS articles are on the way with picking up a large selection of hardware and going from Ubuntu 12.04 LTS all the way back to Ubuntu 10.04 LTS "Lucid Lynx", or even back to Ubuntu 8.04 LTS "Hardy Heron" and some cases Ubuntu 6.06 LTS "Dapper Drake" to look at how Ubuntu's performance has evolved in past years as well as how the power consumption and boot performance situation is looking, since these areas have been
a big focus for Canonical
this cycle.

While now six years old, Dapper Drake is back and running on some vintage hardware at Phoronix.
While these articles are coming soon, lots of the tests have already been completed. Overall, Ubuntu 12.04 LTS is quite compelling on a performance basis. I'm also pleased with the Unity desktop with Precise; in fact, I'm finally thinking of migrating from Ubuntu 10.10's GNOME2 to Ubuntu 12.04 LTS with Unity on my production systems. It's refreshing to see for modern hardware that Ubuntu 12.04 LTS has made improvements when it comes to its boot speed, which was
regressing in recent Ubuntu releases
, to lowering the power consumption while upping its performance in many areas. For respectable hardware, Ubuntu 12.04 LTS is looking great.

Readying some more Ubuntu 12.04 LTS tests...
However, not in all areas is Ubuntu 12.04 LTS doing well. When it comes to Ubuntu 12.04 LTS on older x86 PC hardware, it's another step backwards. For hardware older than about a half-decade, Ubuntu 12.04 is becoming more sluggish to use, burning through greater power, and really not being worthwhile to pursue the upgrade. The Linux support for this older hardware has passed its prime.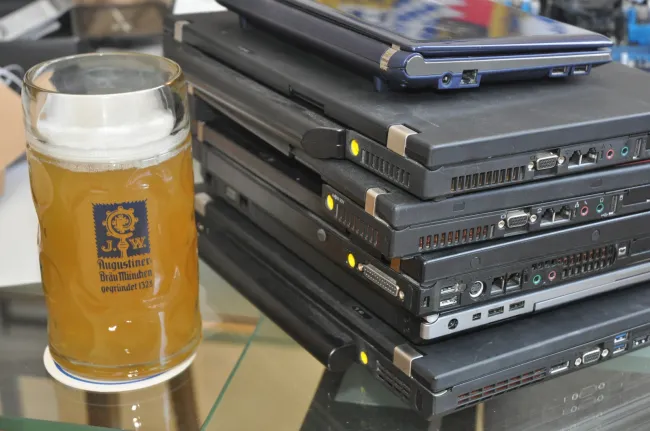 These days it's easy to build out the Linux kernel in under 60 seconds on great hardware like the Intel Core i7 3960X, so when having to deal with a stack of aging commodity hardware, a few Maß are required while waiting for the automated tests to finish... ;)
Among the tested hardware that's now frustrating to work with under Ubuntu 12.04 LTS is an IBM ThinkPad R52, which is an Intel Pentium M notebook released in early 2005. The Unity desktop will work as does Firefox and other basic applications, but for anything more demanding than that, it begins to become a sluggish and degrading experience. Should your battery in such old Pentium M notebooks still be lively, you'll see Ubuntu 12.04 LTS burning through more power.

Ubuntu 12.04 LTS is set to go through about 17% more power than Ubuntu 6.06.1 while idling, but it just doesn't equate to backlight differences or other trivial matters. The best out of this Pentium M hardware was on Ubuntu 8.04 LTS at 17.9 Watts, while Ubuntu 12.04 is at 23.1 Watts idle (+29%). The power consumption of modern PC hardware in Ubuntu 12.04 LTS is in much better shape. (Full results and other data will be published in the full-length featured Phoronix articles, this is just a preview.)
Even an Intel Core Duo -- a physical dual-core processor -- notebook has seen better times on past Ubuntu releases. While not having near the power management complexities of today's processors and graphics cards, its power consumption is also worse off than past releases.

A Core Duo notebook is going through almost 30% more power with Ubuntu 12.04 compared to Ubuntu 6.06 when the hardware support for the notebook was first introduced. Again, more results coming later.
In general I find the optimal Linux / open-source hardware support to be two to three years after the hardware's first availability, at least when it comes to open-source graphics drivers and some processor/compiler optimizations, etc. After that the support loses focus. Lately for the newest x86 consumer hardware it's shortened up to be about one year to enter a nice sweet spot -- see
Intel Sandy Bridge Shapes Up On GCC 4.7 Compiler
,
It Was One Heck Of A Year For Sandy Bridge Graphics
, etc -- and hopefully will remain that way for at least another two years before being shafted. (I'll be making much the same comments in some other upcoming articles on the AMD side now that last year's Bulldozer architecture support has matured well within the newest GCC and kernel.) However, for hardware past the half-decade mark, it's just commonly regressing with successive upgrades.


On the plus side, the open-source graphics driver performance at least has matured over the past two years, so its increase in power consumption during OpenGL gaming isn't without benefit.
Tier-one distribution vendors, upstream kernel developers, and hardware vendors lose interest and focus their attention on more recent hardware, optimizing for modern conditions, etc. When problems for vintage hardware do arise and the upstream developers aren't willing to properly address the situation but at the same time not yet ready to drop the support outright,
it just results in
half-assed fixes
. It's not always just about bugs though, but some hardware with open-source drivers never reaches a truly complete state before the limited development manpower focuses on something newer -- take the R500 driver for instance, which is in largely good shape but not often worked on these days in any non-maintenance manner and still not 100% parity to the deprecated pre-R600 Catalyst blob. Even application developers shift focus, such as with
KDE's KWin going to be dropping vintage GPU support
.

For other CPU-focused tests the power consumption with Ubuntu 12.04 LTS is also up compared to aging Ubuntu releases, but without any further performance gain out of those workloads -- in some cases, with worse-off results.
For anyone that still is running such vintage hardware in a production capacity, I would advise against upgrading to Ubuntu 12.04 LTS or any other newer Linux distribution for that matter, aside from possibly those distributions catered towards running on crippled hardware. For Pentium M era hardware, I'm finding Ubuntu 10.04 LTS "Lucid Lynx" to be the sweet spot, and for those with old hardware, you can always selectively upgrade your packages from there. Legacy hardware users would find a better Linux desktop experience if they went with this approach.
At least for Ubuntu 12.10 they will be
dropping the non-PAE 32-bit kernel
, which will knock out some users and make them think twice about trying to upgrade. Hopefully the Ubuntu developers will decide to do greater "spring cleaning" of older hardware support once Precise Pangolin is out the door.
Stay tuned for the full findings in the coming days; tomorrow will begin with the extensive boot performance results across a spectrum of new and old hardware.