Show Your Support: Have you heard of Phoronix Premium? It's what complements advertisements on this site for our premium ad-free service. For less than $4 USD per month, you can help support our site while the funds generated allow us to keep doing Linux hardware reviews, performance benchmarking, maintain our community forums, and much more.
Linux 5.17 Adds RISC-V sv48 Support For Being Able To Handle More Memory
In addition to Linux 5.17 bringing
support for the low-cost StarFive RISC-V platform
among other RISC-V updates, more changes for this royalty-free processor ISA were sent in on Friday.
Most notable with these latest RISC-V changes for
Linux 5.17
is providing sv48 support. RISC-V sv48 is for allowing 48-bit virtual address space support.
With a fourth level of the page table, RISC-V 64-bit kernels can now address up to 128TB of virtual address space and in turn allows up to 64TB of physical memory. Granted, we haven't seen any high-end RISC-V server platforms being able to support anything remotely close to existing limits -- I haven't even seen any high capacity RAM RISC-V server at all yet -- but this is good for the future.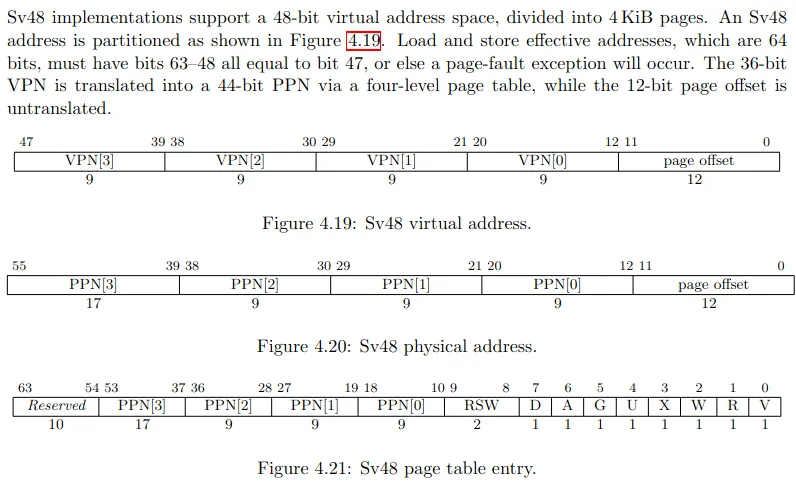 sv48 details within The RISC-V Instruction Set Manual, Volume II: Privileged Architecturem v1.10.
The Linux 5.17 can automatically detect at run-time sv48 support and fall-back otherwise to 3-level page table support for non-sv48 hardware. Patches for Linux sv48 support date back to at least 2020 and have gone through a number of rounds of review before being deemed ready for mainline.
The sv48 support and other last minute RISC-V additions for Linux 5.17 were sent in as part of
this pull
to mainline.