The New Place Where Linux & Other Open-Source Code Is Constantly Being Benchmarked
The Phoronix "front office" is largely remaining the same where I'm doing constant GPU/CPU/SSD tests and swapping out of other hardware in open test beds, Phoronix article tests, etc. The hardware here is stationary.
There's also room in the new environment with projector for working on new Phoronix Test Suite, Phoromatic, and OpenBenchmarking.org code. Or for walking through Phoronix Test Suite and Phoromatic features to enterprise clients or Phoronix visitors.
As vendors sometime visit Phoronix as well as Phoronix Test Suite customers, what server room would be complete without a beer / wine / liquor bar? And for while working at night with 100+ hour work weeks...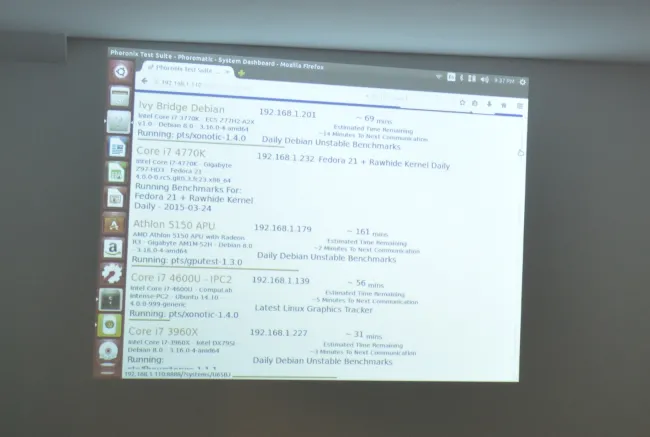 Pulling up Phoromatic's dashboard on the projector screen allows for seeing the state of systems in real-time -- seeing what benchmarks are running on what systems, the estimated time to completion, etc.
Aside from when any hardware/software issues happen, all of the systems are fully-managed using the open-source Phoronix Test Suite benchmarking software with Phoromatic. Phoromatic handles the scheduling of tests, powering up of systems automatically when there's a test to run, aggregating of test results, and other tasks. This new, larger test farm will also allow more easily adding new functionality to the Phoronix Test Suite and Phoromatic to fit the needs of enterprise customers who run PTS on hundreds of systems.
The tests on these systems range from graphics to disk to CPU to memory.