Show Your Support: This site is primarily supported by advertisements. Ads are what have allowed this site to be maintained on a daily basis for the past 18+ years. We do our best to ensure only clean, relevant ads are shown, when any nasty ads are detected, we work to remove them ASAP. If you would like to view the site without ads while still supporting our work, please consider our ad-free Phoronix Premium.
A Tour Of The New Phoronix Office For Linux Benchmarking
As most Phoronix readers know, earlier this summer I relocated from the high-tax, corrupted, crime-ridden Chicago to Indiana and with that Phoronix Media migrated. While my office configuration is slowly coming along and evolving, here's a look at things with most of the day-to-day setup now established. It's quite a different setup from the last Phoronix office tour two years ago. Like the last tour, this article is also to serve as some other recommendations I have about various products that otherwise wouldn't get (any or much) coverage on Phoronix but are worthy of a shout-out to Linux users and computer enthusiasts.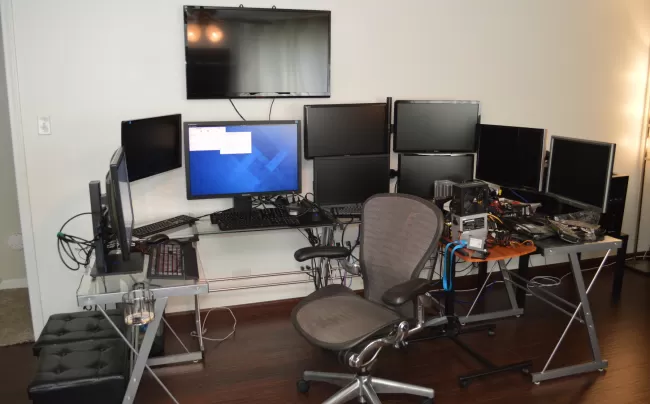 First up, with the move comes much more space as well as much greater electrical capacity (while also being lower-cost thanks to being outside of Chicago/Illinois...). This setup is where all of the Phoronix.com work is done by myself and my wife, Fatima, contributing. It's also where the Phoronix Test Suite is developed along with Phoromatic and OpenBenchmarking.org along with my other enterprise work.
There's plenty of monitors around and they all end up getting used frequently. While Phoronix readers in the past have commented on just using a KVM switch or remote connecting, I prefer having multiple setups quickly at my disposal. Among the reasons are for benchmarking multiple systems simultaneously and with my peripheral vision to be able to monitor them constantly in case of encountering any visual screen corruption, system resets, or other oddities that would be harder to detect unless switching between the different displays with a KVM; when frequently testing the latest graphics drivers and kernel, it's a common occurrence. It also obviously works out great when wanting to try out the vast options for multi-monitor display on Linux (like quad-monitor Linux gaming). I have reviews on most of my monitors but they usually end up coming down to being Acer or ASUS products or the Seiki TV for 4K testing.
Systems are constantly being swapped out which is why not all monitors/keyboards are hooked up at the moment, while continuously-benchmarking regression and other stationary systems are housed elsewhere. On my main system I am still running Ubuntu 14.04 LTS with Unity for its HiDPI support while on the other systems is, of course, a mix of all different Linux distributions that are constantly being swapped out, re-installed, or re-configured. The same goes for the graphics drivers, desktop environments, etc. There's also still Solaris, BSD, and OS X installations present for working on the Phoronix Test Suite ports to those platforms for commercial purposes as well as running Linux performance comparisons against that hardware.