The New Place Where Linux & Other Open-Source Code Is Constantly Being Benchmarked
It's close to 50 Linux systems initially in the new automated test farm that are doing nothing but benchmarking day-in and day-out of upstream, open-source code! I've spent over the past month and hundreds of hours building the new server room and after a lot of work, it's now back to being fully operational and churning out tons of Linux code being rigorously tested throughout the day in looking for performance regressions and other issues. Here's a look at the new environment: an open-source test farm that has a command-center-like screen and a bar.
Compared to most test farms within IHVs/ISVs, with this new test farm (effectively v2.0 of LinuxBenchmarking.com) there's no allegiance to any particular component (e.g. a certain driver, only one distribution, or other specific workloads that reflect the commercial needs of the organization), but rather any interesting, upstream, performance-sensitive key Linux components that could benefit from greater testing and regression tracking. Beyond those requirements, the only other caveat is that the software is reliable enough to be tested automatically and it can be stressed using the hundreds of test profiles hosted on OpenBenchmarking.org. This is also technically separate from Phoronix.com (it's principally a real-world test environment for the Phoronix Test Suite / Phoromatic) though when interesting data comes along I'll share it here.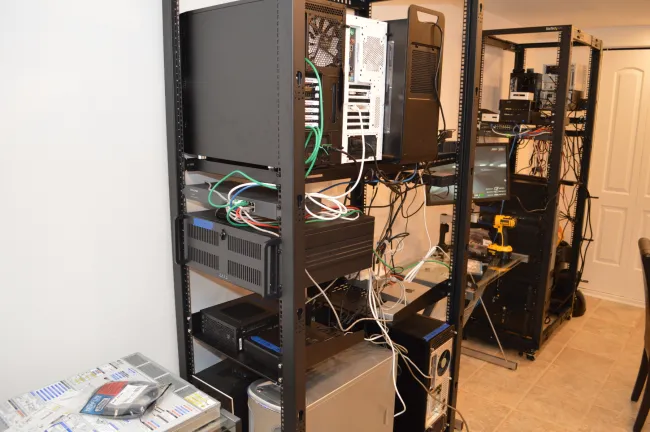 Everything is back to almost being operational: there's still a few more systems to be commissioned, a few systems acting up, more cables to organize, some extra monitors to hook-up, and other finishing touches. As when originally announcing the 32 system test farm for automated Linux benchmarking, the current focus continues to be on daily testing of the mainline (Git) Linux kernel, the daily LLVM and Clang compiler, the latest Mesa/Gallium3D graphics stack, the Fedora Rawhide kernel, and daily Debian unstable tests. There's also experiments with openSUSE, Arch, and other setups. Once more of the systems are commissioned, other target software stacks will be looked at.
I've already written about the server rack cabinets I'm using, the low-cost 2U enclosures, and the $50 4U server cases. In other upcoming Phoronix articles will be mini reviews on some of the other server equipment I've picked up for this new environment.
This new server room was made possible by Phoronix Test Suite enterprise customers. It's certainly a big improvement over the previous test farm setup established a few months ago. There's much more space, better cooling, and 3~4x greater electrical capacity.

What I Started From A Month Ago
The new server room is also a big difference from the room when I started the remodel myself. Sans outsourcing the electrical upgrades, Fatima and I did everything else with construction work being a stress-relieving hobby and long having done such projects for fun. This also kept costs to a minimum.

The Early Days Of Phoronix Benchmarking Many Years Ago
It's also a big difference compared to when I started Phoronix and Linux testing eleven years ago.