We Rely On Your Support: Have you heard of Phoronix Premium? It's what complements advertisements on this site for our premium ad-free service. For as little as $3 USD per month, you can help support our site while the funds generated allow us to keep doing Linux hardware reviews, performance benchmarking, maintain our community forums, and much more. You can also consider a tip via PayPal.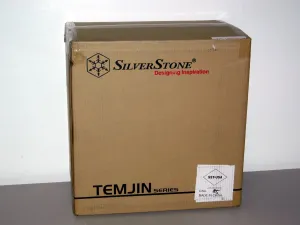 While SilverStone Technology has been around for less than four years during this time we have seen some extremely innovative computer enclosures. Among the SilverStone case series have been the Temjin, Lascala, Sugo, Milo, Crown, and Grandia. The SilverStone Temjin series focuses on sleek high-end ATX cases and they had recently introduced their ninth model. While we will be looking at the SilverStone Temjin TJ09 in just a matter of days, we took this opportunity to look at the TJ08. The SilverStone TJ08 is a micro ATX chassis that is designed to pack the power of a standard ATX chassis but on a much smaller scale. This 195 x 381 x 378 mm chassis ships with dual 120mm fans and a removable motherboard tray.
Features:
· Dual 120mm fans in Micro-ATX format
· Optimized free-flowing design
· Premium aluminum front bezel
· Simple, ergonomic internal layout
· Removable motherboard tray
Contents:
The box for the Temjin TJ08 is certainly not flashy, but it had done its job of protecting the case during transportation. On the exterior the cardboard is labeled for the Temjin series but it does not list off the features and specifications or any photos of the chassis. Inside the case was protected by soft Styrofoam, while the enclosure itself was wrapped in a plastic bag. Included with the case was the mounting hardware and a SilverStone TJ08 user's manual. The available colors for the Temjin TJ08 are silver and black.