SilverStone Case Storage Series CS350
While we have tested dozens of SilverStone computer cases over the years at Phoronix, they have generally been phenomenal desktop cases, but not until now have we had a chance to see what innovations the company can drive into server/workstation-focused 4U enclosures. In this article is a look at the SilverStone Case Storage Series CS350.
The Case Storage Series CS350 is advertised as a versatile desktop or server chassis: it complies with 4U specifications, but also includes some feet should you want to be using it as a desktop / media center chassis. The CS350 supports five hot-swappable 3.5-inch SATA/SAS drive bays and each bay has an individual lock, support for ATX or micro-ATX motherboards, 120mm intake fan with magnetic fan filter, and other features designed for a pleasant server rack experience.
The SST-CS350 body is composed of SECC steel, the case can accommodate one external 5.25-inch drive bay in addition to its five 3.5-inch hot swappable bays while on the inside are two additional 2.5-inch drive bays and another 3.5-inch bay.
Complementing the 120mm front intake fan are two 80mm fan slots on the area of the case as well as an 80mm fan on the hot-swap drive cage.
On the front of the enclosure are two USB 3.0 ports and audio ports. Nice to see USB 3.0 ports with many server enclosures we encounter still having USB 2.0 ports.
The CS350 has seven expansion slots plus an extra slot away from the motherboard mounting area for any accessories connected via cabling.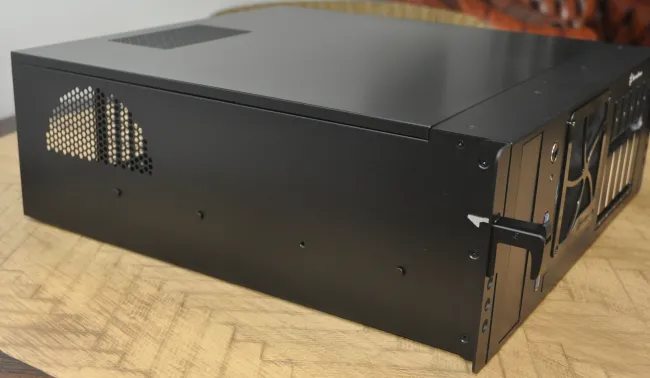 The SilverStone CS350 can accommodate a single ATX power supply up to 250mm in length. With this being designed not only for server cases but also potential desktop use-cases as well (and HPC / workstation for that matter), this case can handle graphics cards up to 13.78-inches in length.
The overall dimensions on this Case Storage Series CS350 enclosure are 400 x 161 x 474 mm and the weight on the chassis is 7.95 kg.