Show Your Support: Did you know that the hundreds of articles written on Phoronix each month are mostly authored by one individual? Phoronix.com doesn't have a whole news room with unlimited resources and relies upon people reading our content without blocking ads and alternatively by people subscribing to Phoronix Premium for our ad-free service with other extra features.
OCZ Vertex SATA 2.0 60GB SSD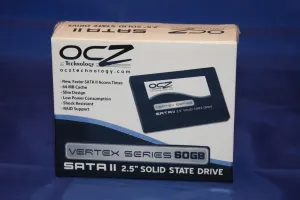 Besides offering an impressive selection of USB flash drives and DDR2/DDR3 memory products, OCZ Technology has been quick to expand their selection of solid state drives. OCZ manufacturers SSD products in their value, mainstream, performance, and enterprise series with some of these series containing multiple product families. Earlier this year we provided Linux SSD benchmarks using an OCZ Core Series V2 SSD, but introduced just recently has been the OCZ Vertex SSD series, which we happen to be reviewing today. The OCZ Vertex SSDs go up to 256GB in size and offers 64MB of onboard cache, RAID support, and is rated for 1.5 million hours MTBF.
Features:
- Available in 30GB, 60GB, 120GB, and 250GB Capacities
- 64MB Onboard Cache
- < 0.1ms Seek Time
- 2.5" Form Factor
- 99.8 x 69.63 x 9.3 mm
- 77 grams
- 0°C to 70°C Operating Temperature
- 2 Watt Power Consumption, 0.5 Watt Idle
- 1500G Shock Resistant
- RAID Support
- MTBF 1.5 Million Hours
- Two Year Warranty
Contents:
The OCZ Vertex SSD arrived in a package similar to the OCZ Core Series V2 SSD we reviewed previously, albeit with the information for the Vertex drive. We were sent the 60GB Vertex SSD for review by OCZ Technology. The 60GB Vertex SSD was within an anti-static bag and residing within a foldout cardboard box that occupied the entire package. No accessories are enclosed with the Vertex, which is fine considering there are none that are needed.
Beyond the plain Vertex drives, there is also an OCZ Vertex EX series, which are enterprise-grade solid state drives that use SLC memory rather than MLC. OCZ Vertex products are backed by a two-year warranty. Our review sample already contained the latest SSD firmware (v1.10), but should you need to upgrade your drive's firmware, the utility to do so is (sadly) only available for Microsoft Windows.