Show Your Support: Did you know that the hundreds of articles written on Phoronix each month are mostly authored by one individual? Phoronix.com doesn't have a whole news room with unlimited resources and relies upon people reading our content without blocking ads and alternatively by people subscribing to Phoronix Premium for our ad-free service with other extra features.
Intel Preparing IAA Crypto Compression Driver - Kernel Crypto API Use For Accelerators
In addition to Intel's Linux patches in recent days working on
broad performance optimizations that can benefit all hardware
there has also been some Intel-specific kernel improvements being worked on like the
Sapphire Rapids C0.2 idle state support
that was published for review on Monday. Also coming out from the covers on Monday was a new patch series for the "iaa_crypto" driver to improve the Linux support for Intel's In-Memory
Analytics Accelerator found with their 4th Gen Xeon Scalable "Sapphire Rapids" processors.
While the Intel In-Memory Analytics Accelerators are already supported under Linux, to date they've just been available for user-space software use that is adapted to make use of the Intel accelerator interface. So far the selection of software able to make use of IAA and the other shiny new accelerators with Sapphire Rapids has been quite limited. I go over the general setup process and some of the available accelerator software in my prior article
Setting Up Intel 4th Gen Xeon Scalable "Sapphire Rapids" For Accelerator Use
.
With this new "iaa_crypto" driver it's interesting as it now sets up the Linux kernel for IAA use. In particular, it can make the In-Memory Analytics Accelerators available for "transparent" use by kernel features making use of the kernel's crypto API such as for Zswap and zRAM use.
The 16 patches posted on Monday include both sync and async mades for the deflate algorithm that is supported by current Sapphire Rapids IAA accelerators.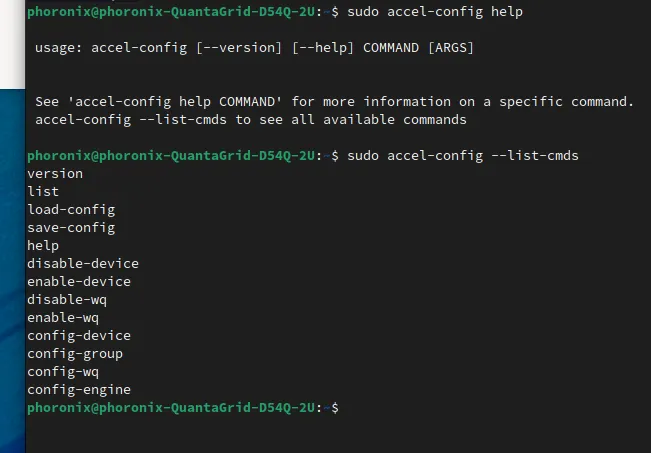 While this allows some Linux kernel code to make transparent use of the IAA engines via the kernel crypto API, it isn't a seamless experience. To make use of it,
accel-config
setup or manually poking via the sysfs interface is still required from user-space for setting up the accelerator configuration before this iaa_crypto kernel driver can enjoy the accelerator speeds. The iaa_crypto driver also allows some additional tuning knobs for the IAA accelerator use by the kernel.
The Intel-provided numbers are showing big compression and decompression wins for this iaa_crypto kernel use:
These iaa_crypto patches
are very promising for accelerator Linux kernel use with IAA and will be interesting to see when this work is ready for merging into the mainline Linux kernel and some of the talked about improvements in the patch cover letter manage to materialize.