The Current State Of GCC 13's Rust Language Front-End
Arthur Cohen with Embecosm presented at the FOSDEM developer conference earlier this month on gccrs, the ongoing effort to provide a Rust language front-end to the GCC compiler. While the GCC Rust front-end has been merged for the upcoming GCC 13 release, it's not yet in a state that will really be usable to most Rust developers yet as an alternative to Rust's official LLVM-based compiler.
On Phoronix I have routinely written about the GCC Rust "gccrs" effort for this alternative compiler implementation for Rust. It's great to see the initial code land for GCC 13 ahead of the GCC 13.1 stable release in the next month or two. However, it won't be until next year with GCC 14 at least before this front-end will really be useful for developers.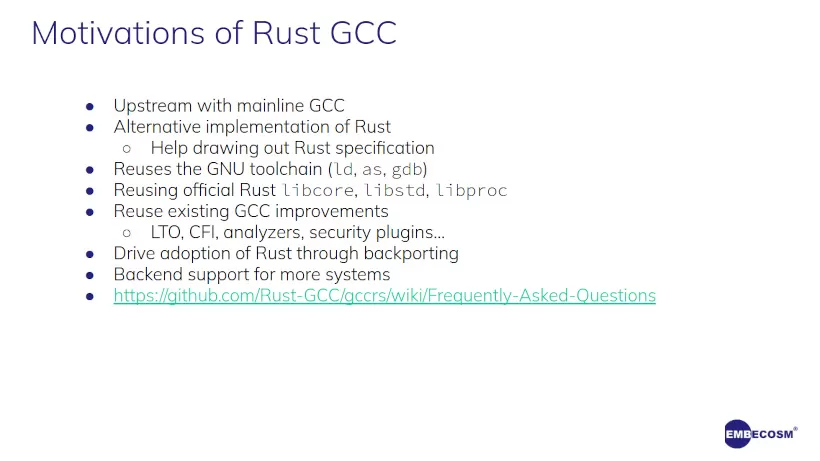 While for GCC 13 the Rust front-end is off to a nice start, there is still much work ahead. The borrow checking code is notably absent right now, the support for built-ins and intrinsics is still a work-in-progress, and the almighty milestone of being able to compile the Rust-for-Linux code isn't yet succeeded. The ability to also successfully run the rustc compiler test suite also remains a work-in-target. Rust's GCC front-end also is currently targeting the older Rust libcore 1.49 milestone.
Those interested in the GCC Rust status in fine detail, the challenges they've found with upstream GCC development, and goals of this work are all outlined in Arthur Cohen's presentation. The FOSDEM 2023 recording is embedded below and there is also the accompanying
slide deck
.