Show Your Support: Did you know that the hundreds of articles written on Phoronix each month are mostly authored by one individual? Phoronix.com doesn't have a whole news room with unlimited resources and relies upon people reading our content without blocking ads and alternatively by people subscribing to Phoronix Premium for our ad-free service with other extra features.
AMD Plans To Contribute Heterogeneous Compute Compiler
AMD has been open-sourcing several components of their Linux HSA (Heterogeneous System Architecture) stack for the past several months including the
AMDKFD
kernel driver and
HSAKMT run-time
. In cooperation with SUSE, they also hope to have
HSA accelerator support in GCC 6
. Besides the GCC support, AMD is apparently planning to publish a Heterogeneous Compute Compiler.
While AMD has seemingly focused on the GNU Compiler Collection for early HSA support, they're reportedly planning to publish a Heterogeneous Compute Compiler (HCC) that utilizes LLVM. In still going through a few new slide uploads from the LLVM Developers' Meeting, one of the slides makes mention of this Heterogeneous Compute Compiler: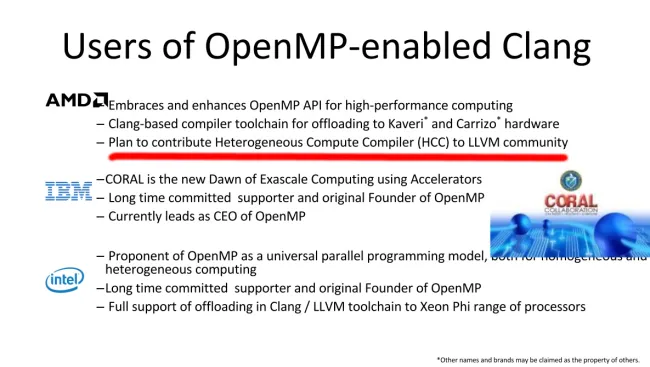 I don't think I've heard AMD or any of the open-source developers mention this Heterogeneous Compute Compiler for LLVM previously, but should be interesting. Hopefully Bridgman or others will be able to shed some light on it in our forums.
Update:
More details
are now available.