We Rely On Your Support: Have you heard of Phoronix Premium? It's what complements advertisements on this site for our premium ad-free service. For as little as $3 USD per month, you can help support our site while the funds generated allow us to keep doing Linux hardware reviews, performance benchmarking, maintain our community forums, and much more. You can also consider a tip via PayPal.
SilverStone Olympia OP650 650W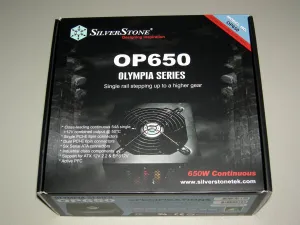 With time we have seen computers go from a single GPU and processor to dual and quad core CPUs with a number of different options for multi-GPU systems. As we have shoved more and more into our systems, the power supplies have gone from a single +12V rail to multiple +12V rails. Dual +12V rails has been very common in recent years, while recently at Phoronix we had looked at a few quad +12V rail power supplies such as the SilverStone Zeus 750W and the OCZ GameXStream 700W. However, the more +12V rails does not necessarily make a better power supply. What we are looking at today is one of SilverStone's newest power supplies, which was recently on display at the Consumer Electronics Show. The SilverStone Olympia OP650 is a 650W power supply that supports both the current 6-pin PCI Express power connector as well as the new 8-pin version, and supports 54 Amps on its single +12V rail.
Features:
· Class-leading continuous 54A single +12V combined output @ 50°C
· Single PCI-E 8pin connectors
· Dual PCI-E 6pin connectors
· Six Serial ATA connectors
· Industrial class components
· Support for ATX 12V 2.2 & EPS12V
· Active PFC
Contents:
The SilverStone Olympia power supply was packaged similar to the various Strider and Zeus power supplies that we had reviewed in the past. Included with the Olympia OP650 was a US power cable, SilverStone user's manual, mounting screws with a few zip ties, and then the power supply itself. Everything had arrived safely with no signs of damage. Other models in SilverStone's Olympia series include the OP750 750W and OP1000 1000W.