SilverStone Strider Gold 750W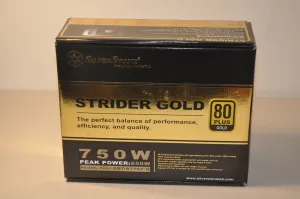 Most often when mentioning SilverStone at Phoronix, it is about one of their phenomenally designed cases like the Temjin TJ10, Fortress FT02, or most recently the Fortress FT03. Enclosures and other peripherals aren't our primary focus at Phoronix for being a Linux-focused hardware outfit, but it's always interesting seeing as what SilverStone comes up with in their new designs. Even though their products have been reviewed at Phoronix for the past six years, their new products always manage to push the envelope further. When it's not a SilverStone enclosure, it's usually a power supply, and that's what we're looking at today; up on the review block is a SilverStone Strider Gold 750W.
Features:
- 80 PLUS Gold certification with high efficiency 87%~90% at 20%~100% loading
- 100% modular cables
- 750W (850W peak power) 24hour fully continuous power output with 40C operating temperature
- Class-leading single +12V rail with 62A
- Strict ±3% voltage regulation and low ripple & noise
- Japanese main capacitors
- Silent running 135mm fan with 19dBA minimum
- Dual EPS 8pin connectors support
- Multiple PCI-E 8pin and PCI-E 6pin connectors support
- Support ATX 12V 2.3 & EPS 12V
- Active PFC
Contents:
The packaging for the SilverStone Strider Gold was not anything particularly unique or different from other SilverStone PSU packages, such as the Strider Essential reviewed more than one year ago.
A message from our partners: If you are looking for great desktop PC deals, you should definitely get the best hardware component for your computer. Having a solid set of hardware will ensure that your computer will stand the test of time. It's important to assemble the best part since you'll be spending your hard-earned money to set it up. Make sure to get the parts with known brands because most probably, these are more reliable. It would be best if you'll read reviews so that you'll have an idea which items to buy.