Show Your Support: Did you know that the hundreds of articles written on Phoronix each month are mostly authored by one individual? Phoronix.com doesn't have a whole news room with unlimited resources and relies upon people reading our content without blocking ads and alternatively by people subscribing to Phoronix Premium for our ad-free service with other extra features.
SilverStone Strider Essential 500W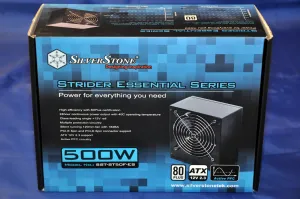 While we haven't looked at many power supplies lately at Phoronix since it's not exactly an area that has any relation to Linux hardware support, every once in a while we do review them when an interesting review unit comes along. Case in point, what we are reviewing today is the SilverStone Strider Essential 500W. The SilverStone SST-ST50F-ES is a 500 Watt power supply that offers a single 34 Amp +12V rail, a near-silent 120mm fan, ATX 12V 2.3 support, and is backed by Active PFC, but this power supply goes for an incredibly low price.
Features:
- 500W Maximum DC Output
- 408 Watt / 34 Amp +12V Output
- Active Power Factor Correction
- 0 - 40C Operating Temperature
- Multiple Protection Circuitry
- 18 - 34 dBA Noise Level
- 150 x 86 x 140 mm Dimensions
- 1.4 Kilograms
- 80 PLUS Certification
Contents:
The SilverStone Strider Essential 500W power supply arrived in a cardboard package similar to other SilverStone power supplies and from other vendors. Included with the SST-ST50F-ES was the user's manual (also the same as the ST40F-ES 400W model), a US power cable, and the mounting screws. We have reviewed other SilverStone Strider power supplies in years past like the ST405 and ST56F, but that was more than four years ago and this is the new Strider Essential series. The Strider Essential series is designed with "high affordability and great performance" in mind. This 500W power supply retails for just over $50 USD, which is quite low in price for a higher-end power supply especially one carrying the SilverStone brand.