SilverStone NightJar 450W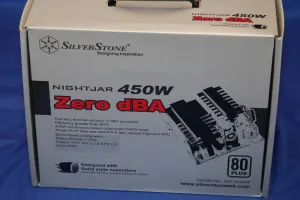 SilverStone Technology is especially well regarded for their unique computer cases from their micro-ATX Sugo series to their HTPC-oriented Lascala line-up to their flagship Temjin series. SilverStone though does not only pride itself upon designing some of the best (also the most expensive) cases on the market, but they have several lines of performance-oriented power supplies. We have looked at SilverStone's Strider, Decathlon, Zeus, and Olympia lines before, but never had we looked at a SilverStone NightJar power supply. The NightJar series is SilverStone's line-up of fan-less power supplies. While there may be no fans so that the power supply can operate silently, the NightJar power supplies are far from being low-end.
Features:
- Fan-less thermal solution, 0dBA acoustics
- 450W continuous power output rated with 500W peak
- Server-level components, solid-state capacitors
- Status indicator LEDs
- Single PCI-E 8-pin, dual PCI-E 6-pin Support
- Active PFC
- Supports ATX 12V 2.3 & EPS12V
- Efficiency greater than 80%
Contents:
Of the many SilverStone products we have reviewed at Phoronix over the years, every one of them has been well protected with the NightJar 450W power supply being no different. There is Styrofoam to protect the power supply from being damaged, bubble wrap around the wires, a plastic bag to protect the power supply itself, and the US power cable and mounting screws is stored in a separate cardboard box. As is evident from the outside of the packaging, the key feature with the NightJar 450W is its fan-less, zero dBA design. Besides the NightJar 450W, SilverStone also manufacturers a 300W version.