Intel Xeon Silver 4108 + Tyan Tempest HX S7100
One of the latest server platforms under our bombardment of Linux benchmarks recently has been the Tyan Tempest HX S7100 (S7100AG2NR) motherboard which at the moment is paired with an Intel Xeon Silver 4108 processor. This ~$430 Xeon Scalable processor has eight cores plus Hyper Threading to yield 16 threads, a low 1.8GHz base frequency but with 3.0GHz turbo, 11MB L3 cache, six-channel memory support, AVX-512 capabilities, and has a 85 Watt TDP.
The Tyan Tempest HX S7100 is a SSE EEB dual-socket server/workstation board for Intel's Xeon Scalable processor family. This motherboard supports four PCI Express x16 slots to support up to four graphics cards for powerful workstation/GPGPU capabilities , 14 SATA ports, two NVMe M.2 ports, and more to offer a very competent platform for pairing with up to two of Intel's latest-generation Xeon LGA-3647 processors.
Between the two CPU sockets on the Tyan S7100 are twelve DDR4 DIMM slots for supporting up to 1.5 terabytes of DDR4 memory with there being six memory channels per CPU for the Xeon Scalable family. In the case of the Xeon Silver 4108, the CPU is limited to DDR4-2400 speeds while the other higher-end scalable processors support up to DDR4-2666.
The S7100 makes use of Intel's C621 chipset and is paired with an Aspeed AST2510 for system monitoring and display capabilities, etc. Though this motherboard does not offer any IPMI capabilities if that is important for your needs. Storage capabilities with this SSI EEB motherboard are eight mini-SAS ports, two PCI-E M.2 connectors, and another four SATA/mini-SAS connectors.
Included with the S7100AG2NR motherboard was the rear I/O shield, a quick installation guide (the complete manual is offered online), a Windows driver CD, two SATA cables, and two CPU clips for mounting the Xeon Scalable processors to supported LGA-3647 heatsinks. For those not well familiar with Intel Xeon Scalable / LGA-3647, first the CPU attaches to the bottom of the heatsink before then securing the heatsink to the motherboard/socket via guide pins for ensuring proper alignment then securing it to the motherboard using the Torx T30 screws.
Besides the four PCI Express 3.0 x16 slots there are also three PCI Express 3.0 x16 slots for other peripherals.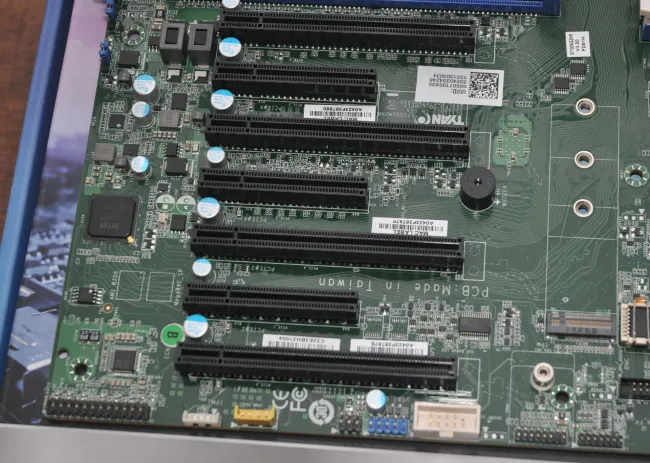 Rear I/O ports on this motherboard include an ID button, S/PDIF audio output connector, four USB 3.0 ports, two Gigabit Ethernet, and VGA output while offered as an expansion slot audio kit are the various analog audio jacks for those interested in the audio support for workstation needs; audio is backed by the Realtek ALC892 codec. It would have been nice if Tyan could have positioned at least six USB 3.0 ports on the rear I/O panel if using this as a workstation, but for most intended use-cases with this board, the four USB 3.0 ports are sufficient.
Now onto more about the Xeon Silver 4108 processor.